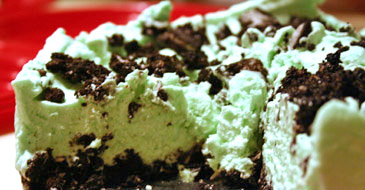 Grasshopper Torte | Fast Fruit Tarts
This post may contain affiliate links. Thank you for supporting the brands that keep me creative in my tiny kitchen!
I went to a BBQ last night, and I was in charge of dessert. I didn't want to turn on the oven in this heat, so I made two no-bake desserts. They were both pretty good! The first was a Grasshopper Torte, and it was VERY refreshing and minty. It tasted like ice cream! The changes I made to try to make it slightly healthier were to use low-fat milk and reduced fat Oreos. I used butter instead of margarine though. Ah well, you have to splurge sometimes!!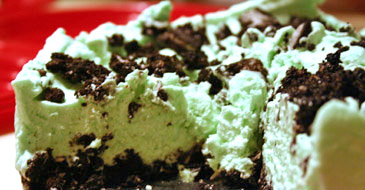 Grasshopper Torte
Seventeen Magazine

*** crust ***
2 cups (24) creme-filled chocolate cookies (Oreos), crushed
¼ cup margarine, melted
*** filling ***
¼ cup milk
1 jar (7 oz) marshmallow crème
2 teaspoons peppermint extract, (or to taste)
10 drops green food coloring, (or as much as you like)
2 cups heavy cream, whipped
Combine the cookies and the margarine. Reserve 1/2 cup for topping.
Press remaining crumbs onto bottom of 9-inch springform pan. Place in freezer while you make the filling.
Gradually add milk to the marshmallow crème, mixing until well blended. Add extract and food coloring. Fold in whipped cream. Pour into pan. Sprinkle with remaining crumbs. Freeze until firm.
MacGourmet Rating: 5 Stars
The next dessert I made was also good, but it was so hot outside that it kinda fell apart when we tried to slice it. In the future, I'd put it in the freezer for about 30 minutes prior to cutting it so that the pudding doesn't slide out. I made one big tart instead of 6 mini ones. I used a box of reduced fat instant vanilla pudding, and threw in some blueberries and almond slivers. Nothing is better than fresh fruit in the summer!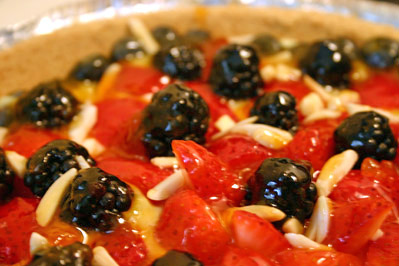 Fast Fruit Tarts
Source: Cooking Light June 2000
6 tablespoons apricot preserves
1 3.5-ounce fat-free, commercial vanilla pudding cup (such as Hunt's)
6 mini graham cracker pie crusts (such as Keebler)
1 cup strawberries, sliced
1 cup blackberries
Place preserves in a small microwave-safe bowl, and microwave on high for 1 minute or until melted.
Spoon 2 tablespoons pudding onto each crust; top each serving with fruit. Spoon 1 tablespoon preserves over each tart.
Nutritional information per serving:
CALORIES 211(26% from fat); FAT 6.2g (sat 1g,mono 2g,poly 1.9g); PROTEIN 2g;CHOLESTEROL 0.0mg; CALCIUM 27mg; SODIUM 201mg; FIBER 2.1g; IRON 0.7mg;CARBOHYDRATE 37.9g
MacGourmet Rating: 4 Stars