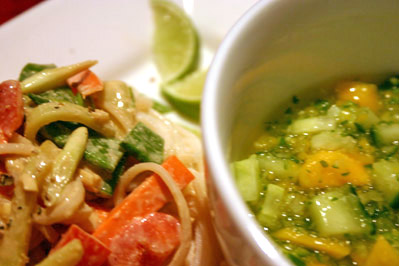 Spicy Sesame and Ginger Noodle Salad | Chilled Mango and Cucumber Soup
This post may contain affiliate links. Thank you for supporting the brands that keep me creative in my tiny kitchen!
I waited until the last minute today to figure out what I was going to make for dinner. I've been pretty good at planning out for the week, but it's been so hot lately that I've lost some motivation. So I found two recipes with lots of fresh and crisp ingredients that could be eaten cold. They both turned out wonderfully!!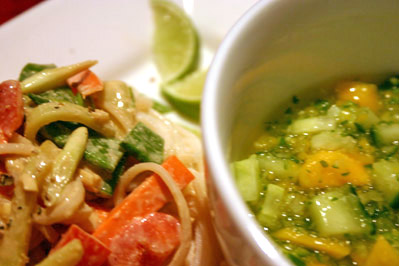 This main course was great! It was a very light and crisp thing to eat on a hot summer day. It wasn't spicy, but a little chili sauce would do the trick if you wanted it to be. The only changes I made were that I used thin straight cut rice noodles instead of soba, i used a seedless cucumber, and I didn't toast the sesame seeds. This would easily adapt to whatever fresh veggies you can find, and it would be great with some grilled chicken on top as well.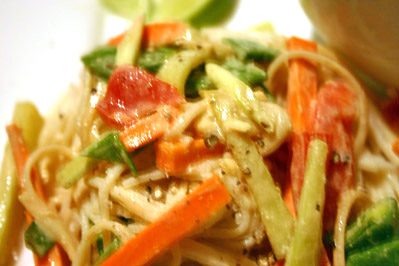 Spicy Sesame and Ginger Noodle Salad
Source: Bon Appétit 1999
¼ cup low-sodium soy sauce
3 tablespoons fresh lemon juice
2 tablespoons ginger, peeled and minced
2 tablespoons tahini
1 ½ tablespoon honey
⅔ teaspoon dried crushed red pepper
2 tablespoons sesame oil
8 ounces chuka soba noodles
2 medium carrots, peeled and cut into matchstick size strips
½ cucumber, peeled and cut into matchstick size strips
½ bunch green onion, thinly sliced diagonally
4 ounces snow peas, trimmed, thinly sliced diagonally
1 red bell pepper, cut into matchstick size strips
1 tablespoon sesame seeds, toasted
Whisk first 7 ingredients in medium bowl.
Cook noodles in a large pot of boiling water until just tender. Transfer
hot noodles to large bowl. Add all veggies, toss. (Salad and dressing can
be made one day ahead. Chill separately). Toss with dressing, season with salt and pepper. Sprinkle with sesame seeds.
MacGourmet Rating: 4 Stars
The soup tonight was really refreshing. Dino usually doesn't like soup, but he had 2 bowls. It has a lot of flavor for having so few ingredients. Make sure you're in the mood to do some chopping before you take this one on!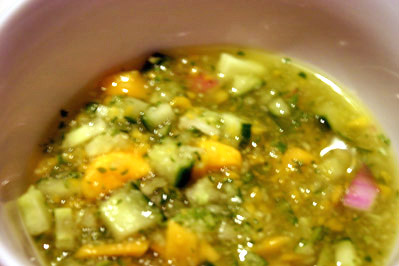 Chilled Mango and Cucumber Soup
Source: CLBB Kayla
2 mangoes, peeled and pitted (2 lb. total)
2 seedless cucumbers, (1 1/2 lb. total)
3 tablespoons red onion, finely chopped
3 tablespoons fresh lime juice, (or to taste)
2 tablespoons fresh cilantro, chopped
Finely chop 1 mango and 1 cucumber and set aside. Coarsely chop remaining mango and cucumber and purée with 1/4 cup water in a blender until almost smooth. Transfer to a bowl and stir in finely chopped mango and cucumber, onion, lime juice, and 2 cups cold water. Place bowl in a larger bowl of ice and cold water and stir until cool.
Just before serving, stir in cilantro and 1 1/4 teaspoons salt.
MacGourmet Rating: 4 Stars