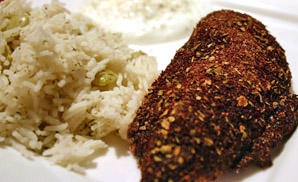 This post may contain affiliate links. Thank you for supporting the brands that keep me creative in my tiny kitchen!
This next recipe was a disappointment, and not because of the recipe, but because it appears that the sumac that I bought had been altered. It was salty! Dino was sure that I must've accidentally added too much salt, but I swore that I didn't. so I went and grabbed what was left of the sumac, and it looked like there were other things in it. There were clear/white crystals in there with the deep burgundy sumac. Sure enough, a taste test proved that it was salt. I'm very disappointed in the store that I bought it from for not labeling it properly.
Anyway, we scraped off the excess "crust" (which didn't really crust, probably because I used boneless, skinless chicken breasts instead of a whole chicken) and it was decent. I can tell that the flavor could be good, if it weren't for all that salt. So this definitely has possibilities for a future trial. For now, it won't be getting a rating.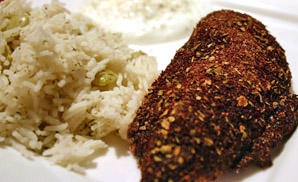 Sumac-Crusted Chicken
1 broiler-fryer chicken (3 1/2 to 4 lb.), quartered, skin and fat removed
About 1/3 cup ground sumac
1 tablespoon dried oregano leaves
1/2 teaspoon each pepper, salt, and ground cinnamon
2 tablespoons olive or salad oil
1 tablespoon water
About 1 cup unflavored non-fat yogurt (optional)
Rinse chicken and pat dry. Stir together 1/3 cup sumac, oregano, pepper, salt, and cinnamon; mix with oil and water. Rub herb mixture onto the meatiest side of each chicken piece. Lay pieces in a single layer, spiced side up, in a 10- by 15-inch pan. Bake in a 425 degree oven until meat at thigh is no longer pink (cut to test), about 30 minutes. Accompany chicken with yogurt and additional sumac to add to taste. Makes 4 servings.
Per serving: 348 cal. (44 percent from fat); 41 g protein; 17 g fat (3.8 g sat.); 4.7 g carbo.; 396 mg sodium; 127 mg chol.