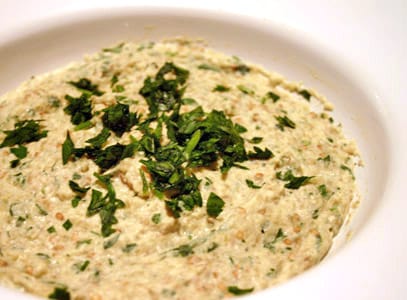 Babaganoush | Flank Steak with Garlic Wine Sauce | French Onion Potatoes
This post may contain affiliate links. Thank you for supporting the brands that keep me creative in my tiny kitchen!
Last night, I finally tried out a recipe for babaganoush. Dino doesn't usually like eggplant, but he loved this stuff. It was really easy to put together, and it tastes really fresh with the brightness of the parsley and lemon juice. Plus, how can you go wrong with tahini?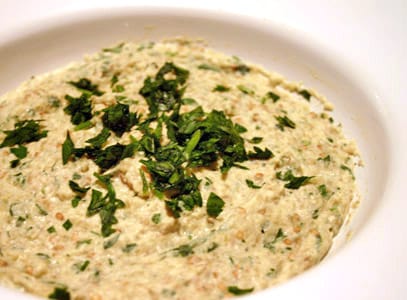 Babaganoush
Healthy Appetite with Ellie Krieger
1 large eggplant (about 1 pound)
1 glove garlic, minced
¼ teaspoon salt
¼ cup finely chopped fresh flat-leaf parsley, plus more for garnish
2 tablespoons tahini
2 tablespoons lemon juice
Prep Time: 15 minutes
Inactive Prep Time: 10 minutes
Cook Time: 20 minutes
Yield: 4 (1/3 cup) servings
Preheat oven to 450 degrees F.
Prick eggplant with a fork and place on a cookie sheet lined with foil. Bake the eggplant until it is soft inside, about 20 minutes. Alternatively, grill the eggplant over a gas grill, rotating it around until the skin is completely charred, about 10 minutes. Let the eggplant cool. Cut the eggplant in half lengthwise, drain off the liquid, and scoop the pulp into a food processor. Process the eggplant until smooth and transfer to a medium bowl.
On a cutting board, work garlic and 1/4 teaspoon salt together with the flat side of a knife, until it forms a paste. Add the garlic-salt mixture to the eggplant. Stir in he parsley, tahini, and lemon juice. Season with more salt, to taste. Garnish with additional parsley.
Nutritional notes:
Nutritional Analysis Per Serving
Calories 75
Carbohydrates 9g
Total fat 4g
Saturated fat 0.5g
Monounsaturated fat 1.5g
Polyunsaturated fat 2g
Protein 2.5g
Fiber 4g
Sodium 153mg
Cholesterol 0mg
MacGourmet Rating: 5 Stars
This flank steak recipe was really tasty. The kitchen got pretty smoky from searing the meat with no fat in the pan. The reviews that I read for the recipe said that it took a long time for the sauce to reducee, but it didn't take that long for me, so I ended up having to take the potatoes out a little earlier than I would have liked to (I didn't want to serve cold meat!). All in all, it was a good meal.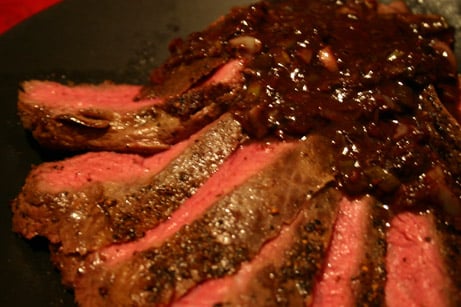 Flank Steak with Garlic Wine Sauce
Allrecipes.com – Warner Beatty
"Great on a cold winter day, and a real heart warmer. For best results, the meat should be quite rare."
PREP TIME 55 Min
COOK TIME 20 Min
READY IN 1 Hr 15 Min
Original recipe yield: 4 servings
1 medium head garlic
1 ½ lbs. flank steak
salt to taste
2 teaspoons freshly ground black pepper
4 tablespoons butter
¼ cup chopped green onions
1 cup dry red wine
1. Cut head of garlic in half, place on a square of foil, and drizzle with olive oil. Wrap. Bake at 400 degrees F (200 degrees C) for 45 minutes. Squeeze roasted garlic cloves out of skins, and mash into a puree. Set aside.
2. Sprinkle steak with salt and a generous amount of freshly ground pepper. Heat a large heavy skillet over medium high heat, but do not add fat. When hot, cook seasoned steak until seared and well browned on both sides, about a minute per side. Reduce heat to medium, and add 2 tablespoons of the butter. Continue to cook for 3 to 5 minutes on each side. Remove meat, and keep warm.
3. Pour off the fat in the skillet, and add the scallions and red wine. Bring to a boil, and whisk in the garlic puree. Boil until the wine is reduced by half, and is thick and syrupy. As it boils, scrape up browned bits with a wooden spoon. Stir in the meat juices that have accumulated under the steak. Boil for another second or so. Remove from the heat, and stir in the remaining 2 tablespoons of butter until it is incorporated into the wine sauce.
4. Quickly slice the meat against the grain, into thin strips. Arrange on a hot platter, and pour the sauce down the center of the slices. Serve at once.
Wine Tip: Try with a Merlot.
Nutritional notes:
Amount Per Serving
Calories: 476
Total Fat: 29.7g
Cholesterol: 120mg
Sodium: 245mg
Total Carbs: 6.8g
Dietary Fiber: 0.7g
Protein: 34.9g
MacGourmet Rating: 4 Stars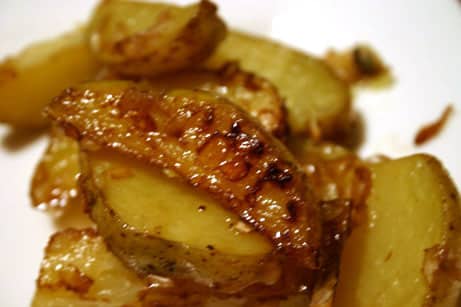 French Onion Potatoes
Carey Burchfield
1/3 cup oil
2 lbs. potatoes
1 pkg. dry onion soup
Dice potatoes. Mix soup, oil and potatoes in Ziploc bag. Bake on a cookie sheet at 425 for 40 minutes.
MacGourmet Rating: 4 Stars