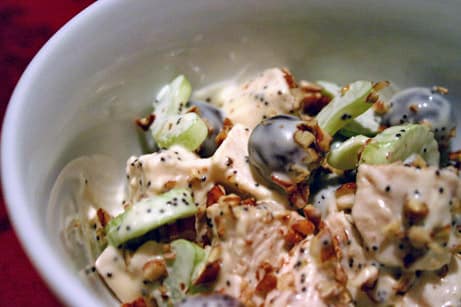 This post may contain affiliate links. Thank you for supporting the brands that keep me creative in my tiny kitchen!
I made this last night, and it was wonderful! I picked the cookbook up for free at Whole Foods a while back when they were having their 25th anniversary celebration. There's 25 recipes in it, and this is the first one I've tried from it. The salad has great crunch from the celery and pecans, and the sweet grapes are perfect with the chicken. Plus, I love poppy seeds! I didn't let it cool down as much as the recipe called for, and it was still great. An all-around easy and tasty new recipe!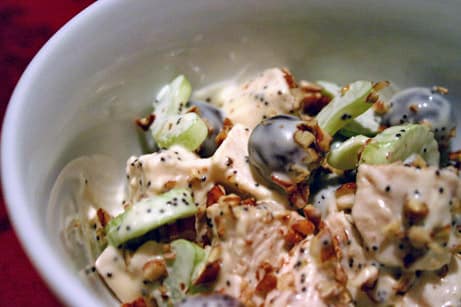 Sonoma Chicken Salad
Whole Foods Market 25th Anniversary Recipes
The Dressing:
1 cup mayonnaise
4 teaspoons apple cider vinegar
5 teaspoons organic honey
2 teaspoons poppy seeds
to taste sea salt and fresh ground white pepper
The Salad:
2 pounds boneless, skinless chicken breasts
¾ cup pecan halves, chopped and toasted
2 cups red seedless grapes
3 stalks celery, thinly sliced
Prepare the dressing by thoroughly mixing together all dressing ingredients in a bowl. Refrigerate until ready to dress the salad (can be prepared up to 2 days ahead). Preheat oven to 375°F. Place chicken breasts in one layer in a baking dish with 1/2 cup water. Cover with foil and bake 25 minutes until completely cooked through. Remove cooked chicken breasts from baking pan, cool at room temperature for 10 minutes, then cover and refrigerate. When the breasts are completely chilled (at least 2 hours refrigerated), dice into bite-sized pieces and transfer to a large bowl. Stir in pecans, grapes, celery and dressing.
Serves 6
Nutritional notes:
Per Serving (10 oz-wt.): 520 calories (220 from fat), 24g total fat, 4g saturated fat, 2g dietary fiber, 49g protein, 23g carbohydrate, 135mg cholestoral, 140mg sodium
MacGourmet Rating: 5 Stars