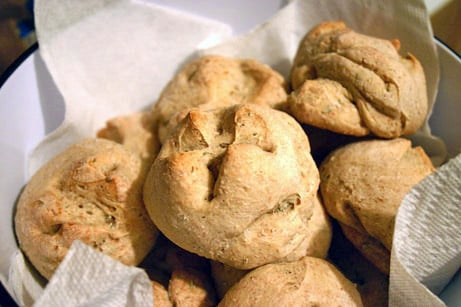 Herbed Goat Cheese Bites | Dulcia Domestica | Sage Dinner Rolls
This post may contain affiliate links. Thank you for supporting the brands that keep me creative in my tiny kitchen!
I made a few dishes to bring over to my in-laws' house for Christmas Eve, and they all turned out phenomenal! The first appetizer that I made was wonderful – I couldn't find a baguette so I used Portuguese rolls, and I baked them flat on a cookie sheet so that I could make more at a time. I don't like tarragon, so I substituted basil. The only thing I'll change next time is to chop up the sun-dried tomatoes so that you don't pull the whole piece off in one bite. The creaminess of the cheese is perfectly accented by the other components of this dish. YUM!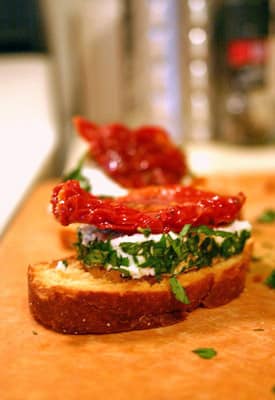 Herbed Goat Cheese Bites
Tyler's Ultimate: Brilliant Simple Food to Make Anytime
1 tablespoon fresh thyme leaves
1 tablespoon fresh flat-leaf parsley
1 tablespoon fresh tarragon
1 tablespoon fresh mint
18 ounce log soft fresh goat cheese (from 5-ounce log)
1 baguette
2 tablespoons extra-virgin olive oil
½ cup oil-packed sun-dried tomatoes
½ cup fresh basil leaves
Combine they thyme, parsley, tarragon, and mint leaves on a cutting board and chop them finely together. Unwrap the log of goat cheese and roll it in the chopped herbs, pressing the herbs to adhere.
Preheat the oven to 350°F.
Cut the baguette into thin slices and drizzle them with a little extra-virgin olive oil. Gently press slices into a muffin tray so they form a boat-like shape and bake for 5 to 7 minutes. They should be lightly browned and crisp. Let the baguette slices cool in the muffin tin.
Top each baguette slice with a slice of herbed goat cheese. Top with a sun-dried tomato and garnish with fresh basil leaves.
Makes 16 to 20.
MacGourmet Rating: 5 Stars
---
The next dish I made was kind of tricky to make. The dates are messy to stuff, and the next time I make them, I'll put them onto a dish lined with wax paper so that they don't stick so bad. These don't look too pretty, but they're very tasty.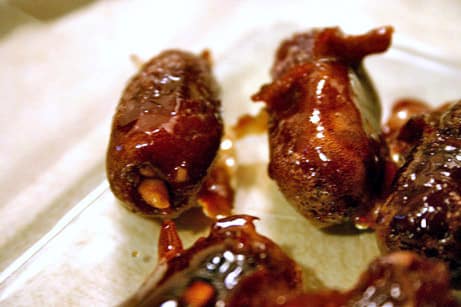 Dulcia Domestica
Allrecipes.com – Talia
12 pitted dates
¼ cup chopped, toasted pine nuts
3 tablespoons red wine
⅛ teaspoon ground black pepper, (optional)
¼ cup honey
Prep Time: 10 Minutes
Cook Time: 15 Minutes
Ready In: 25 Minutes
Yields: 4 servings
"These dates are stuffed with chopped pine nuts, cooked in wine and honey and then cooled before being devoured."
1. Stuff dates with chopped nuts: the nuts are inserted into the space left by the pit.
2. Place dates in a small pan. Sprinkle with pepper if desired. Add wine, then drizzle honey over dates. Cook over medium heat until the skins begin to peel off the fruit. Transfer dates to a serving dish, and allow to cool slightly before serving.
MacGourmet Rating: 5 Stars
---
The last thing I made for Christmas Eve was a dinner roll recipe. I've never baked using yeast before, so I was really glad that they turned out so well! My mother-in-law tasted one and ran off and hid them in her room when I brought them over!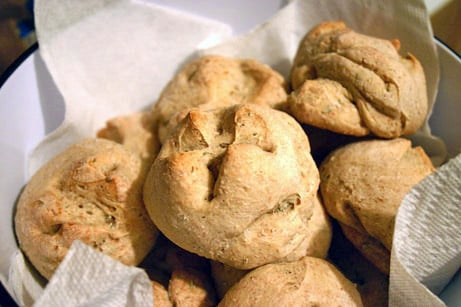 Sage Dinner Rolls
Cooking Light November 2007
1 package dry yeast (about 2 1/4 teaspoons)
1 tablespoon honey
1 ¼ cups warm water (100° to 110°)
2 ½ cups all-purpose flour (11 1/4 ounces), divided
1 cup whole wheat flour (4 3/4 ounces)
3 tablespoons minced fresh sage
1 ½ teaspoons salt
¼ teaspoon black pepper
2 tablespoons olive oil
Cooking spray
Light wheat dough is flecked with minced fresh sage in this savory version of the classic dinner roll. You can bake the rolls up to a month ahead and freeze.
Dissolve yeast and honey in warm water in a large bowl; let stand 5 minutes.
Lightly spoon flours into dry measuring cups; level with a knife. Combine 2 1/4 cups all-purpose flour, wheat flour, sage, salt, and pepper. Add flour mixture and oil to yeast mixture; stir until a soft dough forms. Turn dough out onto a floured surface. Knead until smooth and elastic (about 8 minutes). Add enough of remaining flour, 1 tablespoon at a time, to prevent dough from sticking to hands.
Place dough in a large bowl coated with cooking spray, turning to coat top. Cover and let rise in a warm place (85°), free from drafts, 1 hour or until doubled in size. (Gently press two fingers into dough. If indentation remains, the dough has risen enough.) Punch dough down; cover and let rest 5 minutes.
Divide dough into 12 equal portions, shaping each into a ball (cover remaining to prevent drying). Place balls 2 inches apart on a large baking sheet covered with parchment paper. Cut a deep (1/4-inch) X in the top of each roll using kitchen shears or a sharp knife. Cover and let rise for 30 minutes or until doubled in size.
Preheat oven to 350°.
Bake at 350° for 20 minutes or until puffed and beginning to brown. Remove from baking sheet; cool on wire rack.
Yield: 12 servings (serving size: 1 roll)
Nutritional notes:
CALORIES 156 (16% from fat); FAT 2.7g (sat 0.4g,mono 1.7g,poly 0.4g); PROTEIN 4.3g; CHOLESTEROL 0.0mg; CALCIUM 11mg; SODIUM 296mg; FIBER 2.1g; IRON 1.7mg; CARBOHYDRATE 29g
MacGourmet Rating: 5 Stars