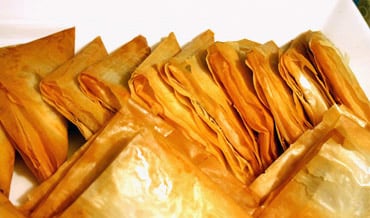 Creamy Mushroom Phyllo Triangles
This post may contain affiliate links. Thank you for supporting the brands that keep me creative in my tiny kitchen!
I made these appetizers today and they turned out to be pretty tasty. Make sure you give yourself enough time to rehydrate the mushrooms before you start this recipe. I only used half of the recipe today – it filled 2 cookie sheets and I didn't want to do more, so I'll finish using the filling in a few days when we have our friend Dan over. Everyone that was over tonight loved the mushroomy flavor!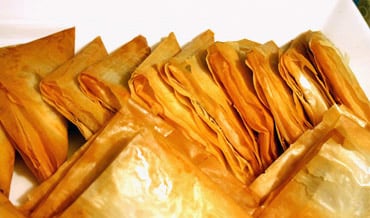 Creamy Mushroom Phyllo Triangles
Cooking Light December 2007
¾ cup dried porcini mushrooms (about 3/4 ounce)
1 lb. button mushrooms
1 large onion, cut into 1-inch pieces (about 8 ounces)
2 tablespoons olive oil
1 teaspoon dried oregano
¾ teaspoon salt
½ teaspoon freshly ground black pepper
¼ teaspoon freshly grated nutmeg
6 ounces 1/3-less-fat cream cheese
½ cup finely chopped flat-leaf parsley
24 (18 x 14-inch) sheets frozen phyllo dough, thawed
Olive oil-flavored cooking spray
This elegant appetizer takes a couple of hours to make, but you can do all the preparation ahead of time. Don't fold triangles too tightly or the mixture will burst through the phyllo. Assemble and freeze up to two weeks before the party. Don't thaw the triangles before baking; just add seven minutes to the baking time.
Cover porcini mushrooms with boiling water in a bowl. Let stand 1 hour. Drain well; chop.
Place half of button mushrooms in a food processor; pulse 8 times or until finely chopped. Remove from processor. Repeat procedure with remaining button mushrooms. Add onion to processor; pulse 8 times or until finely chopped.
Heat oil in a large nonstick skillet over medium heat. Add onion; sauté 5 minutes. Add button mushrooms; cook until mushrooms are tender and liquid evaporates (about 10 minutes). Stir in porcini mushrooms, oregano, salt, pepper, and nutmeg; cook for 2 minutes. Remove from heat. Add cheese; stir until cheese melts. Stir in parsley.
Preheat oven to 375°.
Place 1 phyllo sheet on a large cutting board or work surface (cover remaining phyllo to prevent drying). Cut sheet in half lengthwise; lightly coat with cooking spray. Fold each phyllo piece in half lengthwise to form a (3 1/2-inch-wide) strip. Spoon a level tablespoon of mushroom mixture onto 1 short end of each strip, leaving a 1-inch border. Fold 1 corner of edge with 1-inch border over mixture, forming a triangle; continue folding back and forth into a triangle to end of strip. Repeat procedure with remaining phyllo, cooking spray, and mushroom mixture. Place triangles, seam side down, on baking sheets coated with cooking spray. Lightly coat tops with cooking spray.
Bake at 375° for 20 minutes or until golden. Serve warm.
Yield: 48 triangles (serving size: 2 triangles)
Nutritional notes:
CALORIES 49 (37% from fat); FAT 2g (sat 0.8g,mono 1g,poly 0.2g); PROTEIN 1.5g; CHOLESTEROL 3mg; CALCIUM 7mg; SODIUM 97mg; FIBER 0.5g; IRON 0.6mg; CARBOHYDRATE 6.2g
MacGourmet Rating: 4 Stars