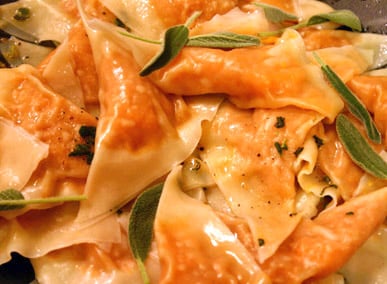 Sweet Potato Ravioli with Lemon-Sage Brown Butter | Maple-Balsamic-Glazed Pork Medallions
This post may contain affiliate links. Thank you for supporting the brands that keep me creative in my tiny kitchen!
I've been on a roll with picking out great recipes lately (I hope I didn't just jinx myself). These two recipes both turned out extremely well. The sweet potato and pork really went well together.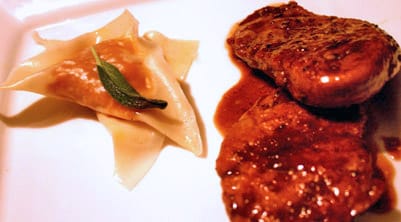 These were a great alternative to regular ravioli. I used soy butter for the sauce so that they'd be dairy free. The nutmeg and cinnamon spice them up nicely, and the fresh sage in the sauce gives it an earthy flavor. These disappeared really quickly!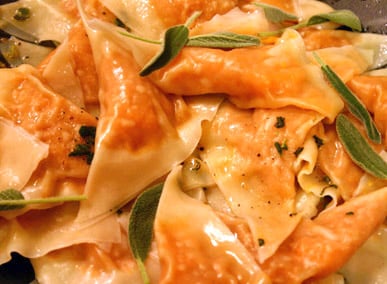 Sweet Potato Ravioli with Lemon-Sage Brown Butter
Cooking Light October 2007
1 (1-pound) sweet potato
2 tablespoons grated fresh Parmesan cheese
½ teaspoon salt, divided
¼ teaspoon ground cinnamon
⅛ teaspoon ground nutmeg
24 wonton wrappers
1 large egg white, lightly beaten
6 quarts water
Cooking spray
3 tablespoons butter
1 tablespoon chopped fresh sage
1 tablespoon fresh lemon juice
⅛ teaspoon freshly ground black pepper
Sage sprigs (optional)
Serve with ham, roast pork loin, Cornish hen, or venison.
Preheat oven to 400°.
Pierce potato several times with a fork; place on a foil-lined baking sheet. Bake at 400° for 40 minutes or until tender. Cool. Peel potato; mash. Combine potato, cheese, 1/4 teaspoon salt, cinnamon, and nutmeg in a small bowl.
Working with 1 wonton wrapper at a time (cover remaining wrappers with a damp towel to keep them from drying), spoon 1 tablespoon potato mixture into center of each wrapper. Brush edges of dough with egg white; bring 2 opposite corners to center. Press edges together to seal, forming a triangle. Repeat procedure with remaining wonton wrappers, potato filling, and egg white.
Bring 6 quarts water to a boil. Add 8 ravioli; cook 2 minutes or until done. Remove ravioli from pan with a slotted spoon. Lightly coat cooked wontons with cooking spray; keep warm. Repeat procedure with remaining ravioli.
Melt butter in a small skillet over high heat. Add chopped sage to pan; cook 1 minute or until butter is lightly browned. Stir in remaining 1/4 teaspoon salt, juice, and pepper. Drizzle butter mixture over ravioli. Garnish with sage sprigs, if desired.
Yield: 8 servings (serving size: 3 ravioli)
Nutritional notes:
CALORIES 159 (17% from fat); FAT 5.1g (sat 3g,mono 1.3g,poly 0.4g); PROTEIN 4.1g; CHOLESTEROL 15mg; CALCIUM 45mg; SODIUM 356mg; FIBER 1.9g; IRON 1.3mg; CARBOHYDRATE 24.3g
MacGourmet Rating: 5 Stars
---
The main dish that I made was a huge hit! I doubled the recipe, so I let it simmer a bit at the end with the lid on (I seared them in batches and then stacked them all together, poured the sauce on, and closed the lid) to make sure that they were cooked through. The sauce is tangy and sweet and delicious. I buy pork tenderloin from the wholesale club and keep them in the freezer so that I always have it on hand. It's a lot less expensive that way, and it freezes really well.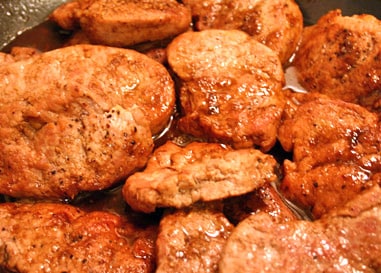 Maple-Balsamic-Glazed Pork Medallions
Cooking Light December 2007
¼ cup maple syrup
3 tablespoons balsamic vinegar
2 teaspoons Dijon mustard
1 (1-pound) pork tenderloin, trimmed
2 teaspoons olive oil
½ teaspoon salt
¼ teaspoon freshly ground black pepper
Balsamic vinegar and maple syrup combine for a sweet-tart sauce; Dijon mustard adds a savory note. Serve with whipped sweet potatoes and sautéed broccoli rabe.
Combine syrup and vinegar in a small saucepan; bring to a boil. Cook until reduced to 1/3 cup (about 3 minutes), stirring occasionally. Remove from heat; stir in mustard.
Cut pork crosswise into 8 pieces. Place each pork piece between 2 sheets of heavy-duty plastic wrap; pound to 1/4-inch thickness using a meat mallet or small heavy skillet. Heat oil in a large nonstick skillet over medium-high heat. Sprinkle pork evenly with salt and pepper. Add pork to pan; cook 3 minutes on each side. Add vinegar mixture; cook 1 minute or until desired degree of doneness, turning pork to coat. Place 2 pork medallions on each of 4 plates; drizzle about 1 tablespoon syrup mixture over each serving.
Yield: 4 servings
Nutritional notes:
CALORIES 214 (27% from fat); FAT 6.4g (sat 1.7g,mono 3.3g,poly 0.7g); PROTEIN 22.7g; CHOLESTEROL 63mg; CALCIUM 22mg; SODIUM 409mg; FIBER 0.1g; IRON 1.5mg; CARBOHYDRATE 15.3g
MacGourmet Rating: 5 Stars