Well, I had the first flop from my favorite Persian cookbook. And I was cooking for company. It wasn't bad per se, it was just really sweet and not anywhere near the caliber of the other recipes from this book. It was really liquidy and just blah. And for some reason, the rice (chelo) was mushy, too. I think I'll make that in my dutch oven next time, and maybe won't soak it for as long so that it doesn't get overly tender. I might give up on trying to do the crust thing. The picture even turned out blurry. Ugh.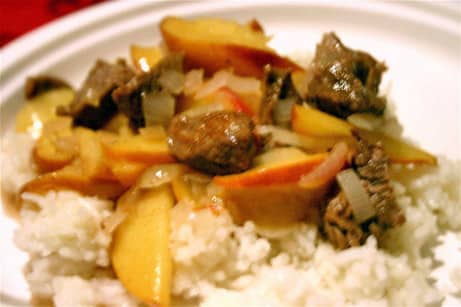 Khoreshe Holu (Peach Sauce)
In a Persian Kitchen: Favorite Recipes from the Near East
4 tablespoons shortening
1 pound meat lamb or stew beef, in 1" cubes or 2 ½-3 lb. chicken (cut up)
1 teaspoon salt
½ teaspoon pepper
¼ teaspoon paprika
½ teaspoon poultry seasoning
1 ¼ cups water
2 tablespoons butter
1 medium onion, finely chopped
1 tablespoon lemon juice
4 large peaches, (not ripe)
2 tablespoons butter
¼ cup lime and lemon juice, (mixed)
½ cup sugar
¾ cup water
Melt shortening in a large frying pan and sauté the meat or chicken with the seasonings until browned. Add water and let simmer on a low fire for about 25 minutes. Melt 2 tablespoons butter in another frying pan and sauté the onions until golden. Remove, add one tablespoon of lemon juice, and let stand. Wash the peaches well to remove the fuzz. Cut them in half and remove the seeds. Then slice them (as for apple pie). Melt butter in a frying pan and sauté the peaches until they are golden. Add the onions to the meat or chicken and arrange the peaches over the meat. Mix lime and lemon juice and sugar and add it to the meat or chicken mixture. Then add ¾ of a cup of water, cover and let simmer on a low fire for 20 minutes. Use cinnamon instead of poultry seasoning if meat is used. Serve with chelo.
MacGourmet Rating: 3 Stars
I'm not going to give the rice a rating because I want to try it again with a different pot and adjust the soaking time. I'm pretty sure it was my fault and not the recipe's that it turned out not so great.
Chelo (Steamed Rice)
In a Persian Kitchen: Favorite Recipes from the Near East
2 ½ cups rice
1 ½ tablespoons salt
2 quarts water
2 tablespoons salt
½ cup butter, melted
Step by Step Method:
1. Wash rice three times in lukewarm water and then soak in cold water to which 1 ½ tablespoons of salt have been added. Use enough cold water to cover the rice. This rice should be soaked overnight (in a pinch, 1 or 2 hours' soaking will suffice).
2. Boil 2 quarts of water to which 2 tablespoons of salt has been added.
3. Pour off the water in which the rice has been soaked. Add rice to the boiling water and boil it for 10-15 minutes. (Stir rice with spoon once or twice to prevent the grains from sticking together.)
4. Pour the rice and water into a strainer and rinse with lukewarm water.
5. Put ⅓ of the melted butter into the bottom of the pot in which you cooked the rice. Add 2 tablespoons of water to the butter in the pot.
6. Take a spoonful of rice at a time and put it in the pot, distributing it evenly. Allow it to mount into the shape of a cone.
7. Pour the rest of the melted butter over the rice, distributing it evenly.
8. Put paper toweling over the pot. Cover and put 2 or 3 dishtowels on the lid. Cook for 10-15 minutes on medium fire. Lower the fire and cook for 35-40 minutes on low fire.
If the rice is cooked at the right temperature, the rice will form a crust at the bottom of the pot which will become crisp and turn a golden brown, while the rest of the rice remains white. If desired, add more melted butter before serving.
Makes 4 servings.
[Note] Put the pot in the sink filled with cold water for a few minutes before serving. This process makes it easy to remove the crust. By putting dishtowels over the lid the rice will cook more evenly throughout.
When serving rice, put 2-3 tablespoons of rice in a dish and add it to 2 tablespoons of saffron. Mix it well and decorate the chelo with this rice. Saffron gives chelo a nice color and flavor.
Chelo is served with various types of khoreshes or sauces.