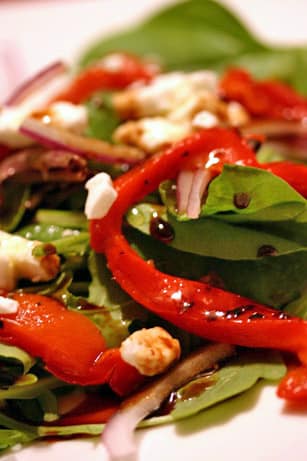 This post may contain affiliate links. Thank you for supporting the brands that keep me creative in my tiny kitchen!
I wanted to make a salad with a reduced balsamic dressing tonight, and then I remembered that we got some WONDERFUL balsamic and olive oil from Olivers and Co. as a gift from our friend Pop. What I didn't know was that the balsamic was thick and fig flavored! I've never purchased "good" balsamic before, and I didn't think it would taste that different. Let me just say – my jaw dropped when I tried this stuff. It was amazing!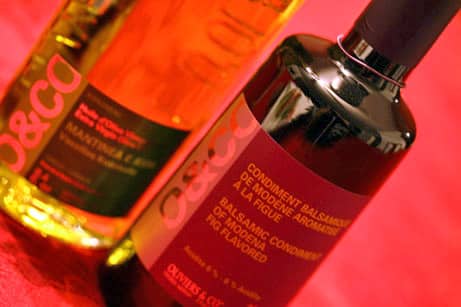 So the salad I made was a bed of baby arugula with roasted red pepper strips, thinly sliced red onion, goat cheese, freshly cracked salt and pepper, and a drizzle of that wonderful fig balsamic and extra-virgin olive oil from Dan. WOW! That one definitely gets 5 stars!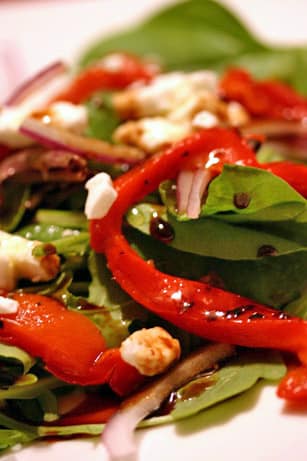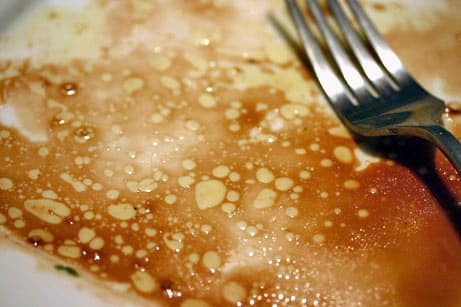 Oh yeah…and I finally got to start playing with my new macro lens so I'm going to be taking much more drool-worthy photos from now on. YAY!