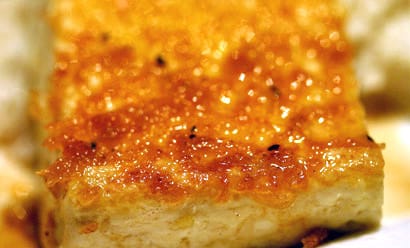 Chickpea Curry | Crispy Tofu with Citrus Soy
This post may contain affiliate links. Thank you for supporting the brands that keep me creative in my tiny kitchen!
I had two vegetarian recipes picked out to make this week, so I decided to lump them together into one meal. The curry turned out really good (even though I forgot to add the cilantro – oops!) but it was a little too spicy for me. It has a lot of cayenne in it. Luckily, I had some plain yogurt in the fridge, so I ate it with that to cool off my palette. Dino loved it! And it definitely scores points for being quick.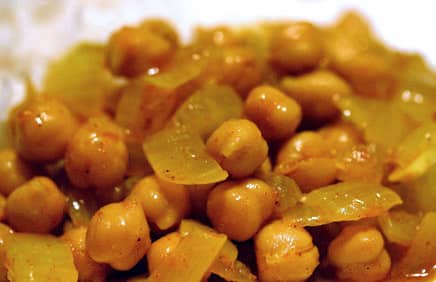 Chickpea Curry
Allrecipes.com – Aminah A. Rahman
2 tablespoons vegetable oil
2 onions, minced
2 cloves garlic, minced
2 teaspoons fresh ginger root, finely chopped
6 cloves whole
2 (2 inch) sticks cinnamon, crushed
1 teaspoon ground cumin
1 teaspoon ground coriander
salt
1 teaspoon cayenne pepper
1 teaspoon ground turmeric
2 ounce) (15 cans garbanzo beans
1 cup chopped fresh cilantro
"We usually recommend preparing the beans at home, but using canned chickpeas allows for a fast, convenient dish."
PREP TIME 10 Min
COOK TIME 30 Min
READY IN 40 Min
1. Heat oil in a large frying pan over medium heat, and fry onions until tender.
2. Stir in garlic, ginger, cloves, cinnamon, cumin, coriander, salt, cayenne, and turmeric. Cook for 1 minute over medium heat, stirring constantly. Mix in garbanzo beans and their liquid. Continue to cook and stir until all ingredients are well blended and heated through. Remove from heat. Stir in cilantro just before serving, reserving 1 tablespoon for garnish.
MacGourmet Rating: 4 Stars
The next recipe was also easy and tasty. The panko gives the tofu a nice crunch. The sauce is very bright and cirtusy – but drizzle with caution – little of the sauce goes a long way. I cut my tofu into 4 pieces instead of 2, and it was plenty with the other stuff that I made. Usually we can take down a whole block no problem!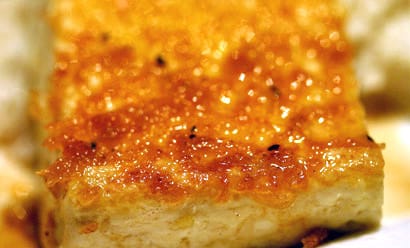 Crispy Tofu with Citrus Soy
Jaden's Steamy Kitchen
1 large tofu block (firm), drained and wrapped in paper towels
½ teaspoon fresh grated ginger (use a microplane grater)
zest of 1 lemon
juice of 1 lemon
¼ cup orange juice
1 tbl soy sauce
1 tbl mirin
1 teaspoon rice wine vinegar
½ cup panko crumbs, finely ground
salt & pepper
1 egg yolk
Optional ingredients: Citrus Salt, salad greens, Japanese pickled ginger
For gluten free – replace with the panko and soy with GF alternatives.
serves 2-4 as part of multicourse meal
Combine lemon juice, orange juice, soy, mirin, rice wine vinegar and ginger in a small saucepan. Simmer on low for 5 minutes. Season with salt, pepper and lemon zest. Taste. Sometimes I like to add a little more zing…and add in just a touch more rice wine vinegar, especially if I'm serving it with salad.
Slice tofu block in half, horizontally, so you have 2 thinner pieces of tofu. Pat tofu halves dry. Arrange in this order: tofu, egg yolk, panko. You can either dip the block in the egg yolk, or use a large pastry brush to brush on a light layer top and bottom. Press both sides of tofu in the panko firmly. In nonstick skillet, heat 1-2 tbl of cooking oil on med-high heat.
When oil is hot, but not smoking, carefully slide in the tofu halves. Do not let them touch. Fry each side 2-4 minutes until you have a nice, brown crust. Manage your heat – you may have to turn your heat up or down depending on your stovetop.
Arrange tofu on plates, spoon a bit of Citrus Soy sauce on top and garnish with Citrus Salt and Japanese Picked Ginger. Serve over salad greens if you wish!
MacGourmet Rating: 4 Stars
I wanted to make some rice to go with this dinner that would be a little more flavorful than "regular" rice. Basmati is always more flavorful (not to mention, my very favorite rice), but I decided to cook it in a mixture of coconut milk and chicken broth with a bay leaf, salt and pepper this time.