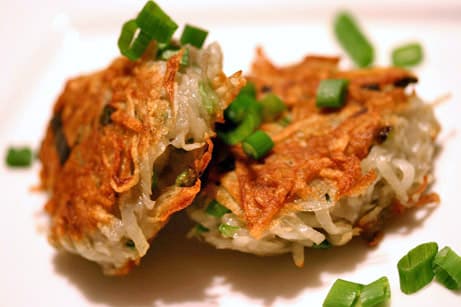 Potato-Scallion Latkes | Flank Steak with Horseradish Sauce
This post may contain affiliate links. Thank you for supporting the brands that keep me creative in my tiny kitchen!
The side dish was surprisingly easy to put together. I've never made latkes before and had no idea that they were so simple. The flavor was nice (after adding some salt and pepper at the end), but I think next time, I'll serve them with some applesauce. They were just begging to be dipped in something!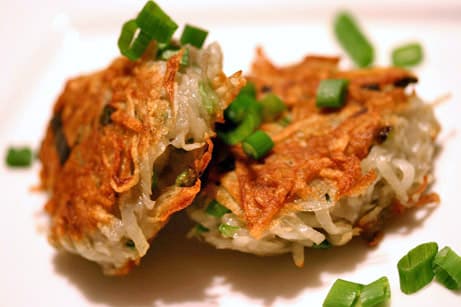 Potato-Scallion Latkes
Cooking Light December 2007
4 ½ cups shredded peeled baking potato (about 1 1/2 pounds)
½ cup finely chopped green onions
2 teaspoons all-purpose flour
¾ teaspoon salt
2 large egg whites
2 tablespoons olive oil, divided
Latkes are a classic Hanukkah dish. The patties are cooked in oil, symbolizing the small amount of oil in a temple lamp that burned for eight days, the miracle the holiday commemorates. Garnish with extra green onions.
Combine potato and onions; squeeze moisture from potato mixture over a sieve. Combine potato mixture, flour, salt, and egg whites in a large bowl. Divide mixture into 12 equal portions, and squeeze out any remaining liquid. Discard liquid. Shape each portion into a 1/4-inch-thick patty.
Heat 1 tablespoon oil in a large nonstick skillet over medium heat. Add 6 patties to pan; cook 5 minutes on each side or until golden. Repeat procedure with remaining 1 tablespoon oil and 6 patties.
Yield: 6 servings (serving size: 2 patties)
Nutritional notes:
CALORIES 157 (27% from fat); FAT 4.7g (sat 0.7g,mono 3.3g,poly 0.5g); PROTEIN 3.7g; CHOLESTEROL 0.0mg; CALCIUM 13mg; SODIUM 321mg; FIBER 1.9g; IRON 0.6mg; CARBOHYDRATE 25.8g
MacGourmet Rating: 4 Stars
---
The main dish tonight…well…I overcooked it. I broiled it and I let it go for a few minutes too long and it ended up too leathery for me. I could barely taste the marinade. But the sauce was excellent. I love horseradish with steak. So I'm basing the rating on what I think it should have tasted like.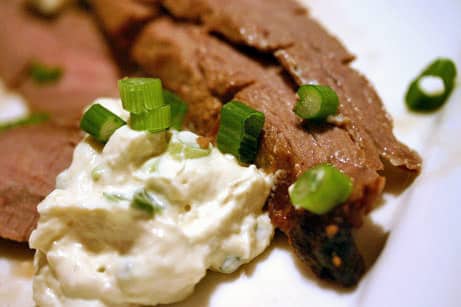 Flank Steak with Horseradish Sauce
Taste of Home Test Kitchen
1 (1 pound) beef flank steak
3 tablespoons lemon juice
2 tablespoons Dijon mustard
2 tablespoons Worcestershire sauce
2 cloves, garlic minced
⅛ teaspoon hot pepper sauce
HORSERADISH SAUCE:
¼ cup fat-free mayonnaise
¼ cup reduced-fat sour cream
1 tablespoon Dijon mustard
2 green onions, finely chopped
2 teaspoons prepared horseradish
"An overnight marinade performs double duty, gently flavoring and tenderizing this lean cut of beef. It can be grilled to perfection in only minutes."
PREP TIME 10 Min
COOK TIME 15 Min
READY IN 25 Min
Original recipe yield: 4 servings
1. Using a sharp knife, score the surface of the steak with shallow diagonal cuts at 1-in. intervals, making diamond shapes. Repeat on other side. In a large resealable plastic bag, combine the next five ingredients. Add steak. Seal bag and turn to coat; refrigerate for 8 hours or overnight. Combine the sauce ingredients in a small bowl; cover and refrigerate.
2. Drain and discard marinade. Grill steak, covered, over medium-hot heat for 7-9 minutes on each side or until meat reaches desired doneness (for medium-rare, a meat thermometer should read 145 degrees F; medium, 160 degrees F; well done, 170 degrees F). Thinly slice steak across the grain; serve with sauce.
Nutritional Analysis: One serving (1/4 of steak with 2 tablespoons sauce)
equals 225 calories, 10 g fat (5 g saturated fat), 51 mg cholesterol, 353 mg sodium, 5 g carbohydrate, trace fiber, 26 g protein. Diabetic Exchanges: 4 lean meat.
MacGourmet Rating: 4 Stars