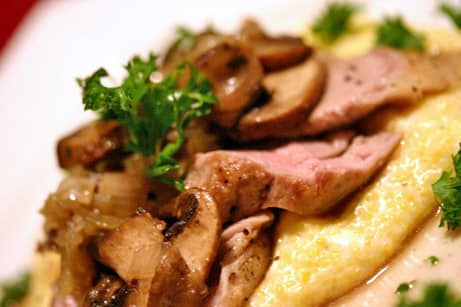 Pork Tenderloin with Cheesy Polenta
This post may contain affiliate links. Thank you for supporting the brands that keep me creative in my tiny kitchen!
This recipe was different for us and very tasty! My store was out of cremini mushrooms and flat-leaf parsley, so I used baby bellas and curly parsley. I also cooked the pork for longer than the recipe specified – I find that most recipes tend to tell you to cook pork less that I like it. I still see it more like chicken – it should be cooked through.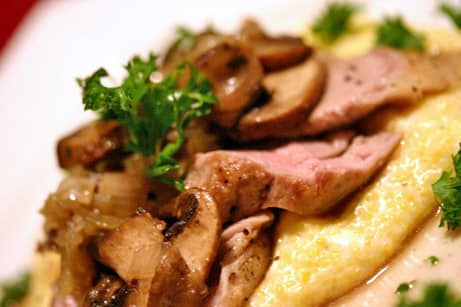 Pork Tenderloin with Cheesy Polenta
Every Day with Rachael Ray December-January 2008
3 tablespoons extra-virgin olive oil
Two 10- to 12-ounce pork tenderloins
Salt and pepper
2 shallots, finely chopped
One 8-ounce package cremini mushrooms, sliced
1 cup chicken broth
½ cup heavy cream
1 cup polenta
6 ounces blue cheese, such as gorgonzola, crumbled
¼ cup chopped flat-leaf parsley
Four Servings
Prep Time: 15 min
Cook Time: 25 min
1. Preheat the oven to 375°. In a large, heavy skillet, heat 1 tablespoon oil over medium heat. Season the pork with salt and pepper and cook in the skillet, turning, until browned, 10 minutes. Transfer to a 9-by-13-inch baking dish, reserving the skillet, and roast until the temperature registers 145° on an instant-read thermometer, 12 to 15 minutes.
2. Meanwhile, heat the skillet over medium heat and cook the shallots and mushrooms in the remaining 2 tablespoons oil until softened, about 5 minutes. Add the chicken broth and simmer until reduced, about 3 minutes. Cover and remove from the heat.
3. In a saucepan, bring 3 1/4 cups water and the cream to a boil and whisk in the polenta. Lower the heat to mediumlow and cook, whisking, until tender, about 3 minutes. Stir in the cheese; season with salt and pepper. Cover and keep warm.
4. Transfer the pork to a cutting board and let sit for about 8 minutes, then slice on an angle and arrange on 4 plates. Top with the pan sauce and parsley and serve with the polenta.
MacGourmet Rating: 4 Stars