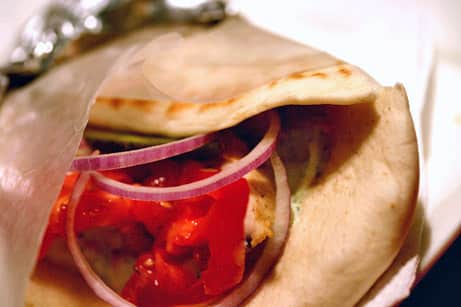 Quick Shish Taouk Sandwich
This post may contain affiliate links. Thank you for supporting the brands that keep me creative in my tiny kitchen!
I picked this book up at the library and paged through it to mark a few recipes that stood out to me. I practically bookmarked the entire book! So this is the first recipe that I've tried from it, and it turned out really well! The chicken has wonderful flavor, and stayed very moist. You have to make sure you get good hummus and tzatziki, or the whole thing could taste off. Dino showed me how to roll the sandwich like the gyro places in Manhattan do it – put a piece of wax paper on top of a piece of foil, put the sandwich on top so that one end sticks out a lot, and then roll it up! It was much easier to eat than my attempt at a half-pita sandwich.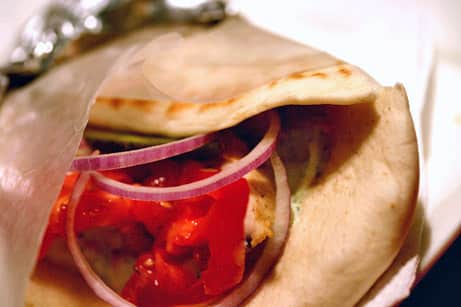 Quick Shish Taouk Sandwich
Lunch Box: Creative Recipes for Everyday Lunches – Marie Breton and Isabelle Emond
1 pound boned chicken breasts
2 tablespoons lemon juice
1 tablespoon oil
¼ teaspoon cumin
¼ teaspoon coriander
¼ teaspoon cinnamon
6 large garlic cloves
6 6″ pitas
½ cup hummus
½ cup tzatziki
½ cup red onions, cut into rings
12 tomato slices
3 cornichons, (small unsweetened pickled cucumbers), cut lengthwise
Preparation: 15 min
Waiting time: 1 hr
Cooking Time: 25 min
6 shish taouk
Preheat the oven to 375°F.
Place the chicken in a sealable plastic bag. Add the lemon juice, oil, seasonings and garlic. Close the bag and shake vigorously. Leave it to marinate at least an hour in the refrigerator.
Place the chicken pieces on an oiled baking sheet in the preheated oven for 20 minutes or until the chicken loses its pink color. Cut in strips.
Spread the pitas with hummus and tzatziki. Divide the chicken, onions, tomatoes and cornichons between the 6 pitas and roll them up.
Serve immediately.
MacGourmet Rating: 4 Stars