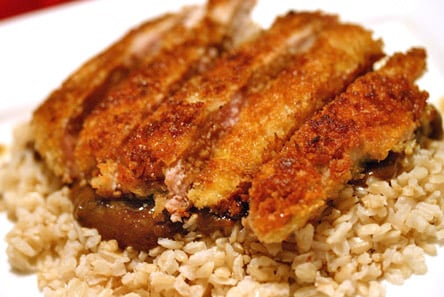 Tonkatsu (Pork Cutlet)/Torikatsu (Chicken Cutlet)
This post may contain affiliate links. Thank you for supporting the brands that keep me creative in my tiny kitchen!
Dino went to lunch at a place he's been telling me about for a while now. They have this special katsu sauce that he says is amazing. So I asked him to bring some home, not knowing when I'd use it, but wanting to try it. Their sauce is full of curry flavor.
Coincidentally, later that day I was poking around on kitchencow.com and I came across a recipe that looked like what he had been telling me about. So I sent it over and he said it looked just like it. Then, he told me he'd eat it for dinner if I made it, even though he had it for lunch. So I made it!
This recipe definitely depends on the sauce you use. I used the kind that he brought home, so I don't know how the recipe's sauce turns out. It definitely gets points for being VERY quick to cook. Yum!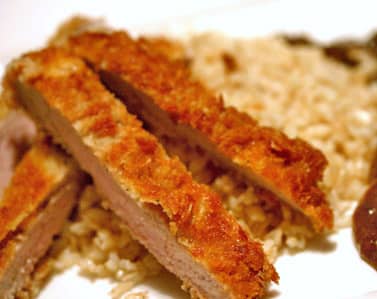 This is how Dino plated his – he said it's how they do it at Go Go Curry. He said they put the katsu underneath the meat, and put something like Worcestershire sauce on top.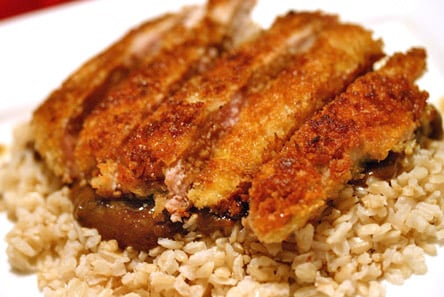 Tonkatsu (Pork Cutlet)/Torikatsu (Chicken Cutlet) V. 5 December 2006
kitchencow.com
This is more of a how-to rather than a recipe, since it doesn't really have fixed proportions.
Pork Cutlet / Chicken Cutlet
Salt and Pepper
All Purpose Flour
1 egg, beaten
Panko / Japanese breadcrumbs
Oil for frying
1. Using the blunt end of a kitchen knife, or a meat tenderizer, pound your cutlets flat, until they're thin and wide.
2. Season the cutlets with salt and pepper.
3. Dredge the cutlets in flour.
4. Follow this up with the beaten egg.
5. Then finish up by dipping it in the breadcrumbs.
6. Pan fry the cutlet, flipping over once one side is done.
7. Let it drain a bit on paper towels and when cool enough to handle, slice into strips.
8. Serve with Tonkatsu sauce.
*If you're freezing, I recommend lining each layer with wax paper to prevent them from sticking. When frying from frozen, no need to defrost. Just keep your oil on medium heat to let it cook through.
Tonkatsu sauce
I haven't tried this recipe yet, since I usually use the bottled Bulldog Tonkatsu sauce but for those who can't get commercially produced sauce, here's a recipe. This is taken from Japanese Food and Cooking by Emi Kazuko and Yasuko Fukuoka
4 tbsp Worcestershire sauce
2 tbsp Good quality tomato ketchup
1 tsp Soy sauce
Just mix them all together.
MacGourmet Rating: 4 Stars