Rigatoni with Eggplant Puree
This post may contain affiliate links. Thank you for supporting the brands that keep me creative in my tiny kitchen!
I saw Giada make this last week and it looked really tasty! I'm trying to get Dino more into eggplant, and I thought this would be the right recipe to do so. I was right! This was really tasty, and it was easy to put together. The red pepper flakes give it a nice kick, too! If I could give half stars in MacGourmet, I'd give it 4 1/2, but I can't, so it gets a 4.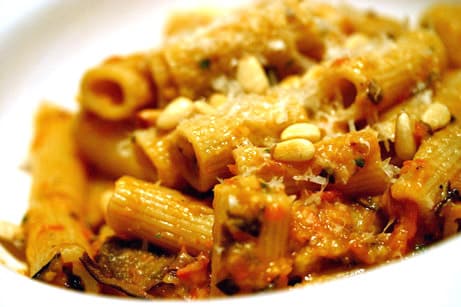 Rigatoni with Eggplant Puree
Giada De Laurentiis – Everyday Italian
1 medium eggplant, cut into 1-inch cubes
1 pint cherry tomatoes
3 cloves garlic, whole
3 tablespoons olive oil
1 teaspoon salt
1 teaspoon freshly ground black pepper
1 teaspoon red pepper flakes
¼ cup toasted pine nuts
1 lb. rigatoni pasta
¼ cup torn fresh mint leaves
3 tablespoons extra-virgin olive oil
½ cup grated Parmesan
Prep Time: 15 minutes
Cook Time: 40 minutes
Yield: 4 to 6 servings
Preheat the oven to 400 degrees F. Line a baking sheet with parchment paper.
In a large bowl combine the eggplant, cherry tomatoes, garlic, olive oil, salt, pepper, and red
pepper flakes. Spread the vegetables out in an even layer on the baking sheet. Roast in the oven until the vegetables are tender and the eggplant is golden, about 35 minutes.
While the vegetables are roasting, place the pine nuts in a small baking dish. Place in the oven on the rack below the vegetables. Roast until golden, about 8 minutes. Remove from the oven and reserve.
Meanwhile, bring a large pot of salted water to a boil over high heat. Add the pasta and cook until tender but still firm to the bite, stirring occasionally, about 8 to 10 minutes. Drain pasta into a large bowl and reserve 1 1/2 cups of the cooking liquid.
Transfer the roasted vegetables to a food processor. Add the torn mint leaves and extra-virgin olive oil. Puree the vegetables.
Transfer the pureed vegetables to the bowl with the pasta and add the Parmesan. Stir to combine, adding the pasta cooking liquid 1/2 cup at a time until the pasta is saucy. Sprinkle the pine nuts over the top and serve.
MacGourmet Rating: 4 Stars