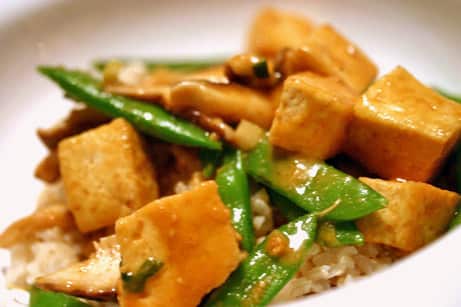 Spicy Stir-fried Tofu with Snow Peas, Peanut Butter, and Mushrooms
This post may contain affiliate links. Thank you for supporting the brands that keep me creative in my tiny kitchen!
I didn't make this exactly as directed because I couldn't find snow peas (I used sugar snap) and my red bell pepper was….let's just say there was a "surprise" when I cut into it, so I threw it out. The dish was kind of bland – it didn't wow us at all. It wasn't bad, just not memorable.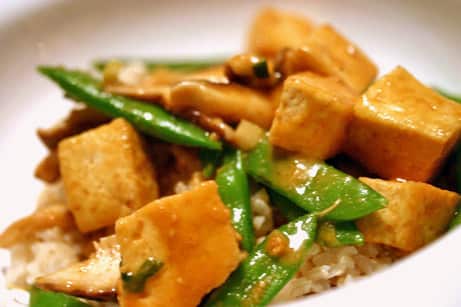 Spicy Stir-fried Tofu with Snow Peas, Peanut Butter, and Mushrooms
Cooking Light January 2008
One serving of this colorful and filling vegetarian entrée gives a boost to skin and hair with all the vitamin C and about 15 percent of a day's worth of folate and vitamin E. Serve over fortified white rice to add more folate to the nutritional profile.
1 package (14-ounce) extrafirm tofu, drained and cut into 1-inch cubes
2 teaspoons canola oil
¾ lbs. snow peas, trimmed
1 cup red bell pepper strips
¾ cup water, divided
½ cup sliced green onions
2 teaspoons minced peeled fresh ginger
2 cloves, garlic minced
3 cups sliced shiitake mushrooms (about 8 ounces)
2 tablespoons reduced-sodium tamari
2 tablespoons creamy peanut butter
1 teaspoon cornstarch
2 teaspoons Sriracha (hot chile sauce, such as Huy Fong)
¼ teaspoon salt
Place tofu cubes on several layers of paper towels. Cover with additional paper towels; let stand 5 minutes.
Heat oil in a large nonstick skillet over medium-high heat. Add tofu to pan; cook 7 minutes or until lightly browned, gently turning occasionally. Remove from pan; keep warm. Add snow peas, bell pepper, 1/4 cup water, onions, ginger, and garlic to pan; stir-fry 3 minutes. Add mushrooms; stir-fry 2 minutes.
Combine remaining 1/2 cup water, tamari, peanut butter, cornstarch, Sriracha, and salt in a small bowl; stir well. Add tamari mixture and tofu to pan; cook 1 minute or until thickened, stirring constantly.
Yield: 4 servings (serving size: 1 1/2 cups)
Nutritional notes:
CALORIES 212(37% from fat); FAT 8.7g (sat 1.4g,mono 3.7g,poly 3g); PROTEIN 13.1g; CHOLESTEROL 0.0mg; CALCIUM 84mg; SODIUM 639mg; FIBER 4.7g; IRON 3.6mg; CARBOHYDRATE 21.5g
MacGourmet Rating: 3 Stars