This post may contain affiliate links. Thank you for supporting the brands that keep me creative in my tiny kitchen!
Dino's coworkers wanted us to have a Superbowl party this year. They all knew that Dino and I aren't into sports AT ALL, but they knew that we had a big TV and that they'd be well fed. So I was planning on making a ton of appetizers (to go with the 3 foot wedge that we ordered from a local deli), but I ended up in the ER Thursday night and was on crutches. So I went for some easy recipes that I've made before, and had to get major help from Dino while I was preparing them (while sitting down at the dining room table).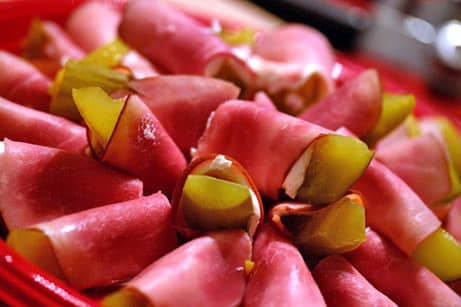 Pickle Treats
Mom
sliced ham
cream cheese
dill pickle spears
Dry ham and pickles with paper towels. Slice pickles in half lengthwise. Spread cream cheese on ham. Lay pickle on ham and roll up. Cut each roll in half for bite-sized pieces.
MacGourmet Rating: 5 Stars
---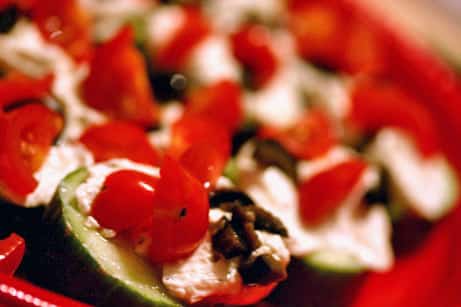 Mediterranean Party Bites
McCormick
8 ounces reduced fat cream cheese, softened
½ cup (2 ounces) feta cheese, crumbled
1 tablespoon lemon juice
2 teaspoons McCormick parsley flakes
1 teaspoon McCormick oregano leaves
1 teaspoon McCormick minced onions
½ teaspoon McCormick baisil leaves
½ teaspoon McCormick garlic powder
2 medium cucumbers, sliced
5 tablespoons ripe olives, chopped
14 grape tomatoes, cut in fourths (or seeded ripe tomatoes cut into 3/4 inch pieces)
1. Blend cream cheese, feta cheese, and lemon juice in food processor until smooth. Add parsley, oregano, minced onion, basil, and garlic powder. Pulse until combined.
2. Spoon or pipe 1 teaspoon of cheese mixture onto each slice of cucumber.
3. Sprinkle with approximately 1/4 teaspoon chopped ripe olives. Top with piece of tomato.
Nutritional notes:
Calories: 26, Fat: 2 g, Cholesterol: 7 mg, Sodium: 75 mg, Carbohydrates: 1 g, Fiber: 0 g, Protein: 1 g
MacGourmet Rating: 5 Stars
---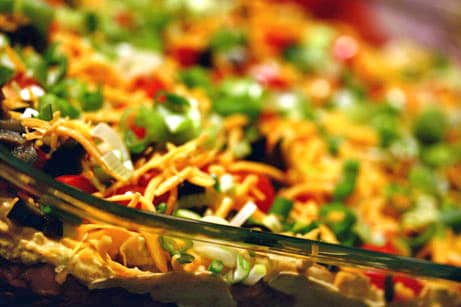 Avocado Dip
Adapted from Carey Burchfield
2 10 ounce cans refried beans
1 cup sour cream
4 ripe avocados
½ cup mayonnaise
3 tablespoons lemon juice
1 package taco seasoning
½ teaspoon salt
¼ teaspoon black pepper
For garnish:
green onions
tomatoes
cheddar cheese
black olives
SPREAD bean dip on bottom of 9×13" pan
COMBINE avocados, lemon juice, salt, pepper, sour cream, mayo & taco seasoning
SPREAD over top of bean dip
TOP with green onions, tomatoes, cheese & olives
Notes: Serve with tortilla chips.
MacGourmet Rating: 5 Stars
---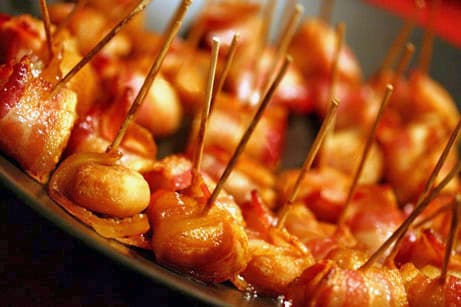 Bacon-Wrapped Water Chestnuts
Carey Burchfield
2 – 3 cans water chestnuts
¼ cup soy sauce
¼ cup sugar
1 package bacon
Soak for a couple hours. Wrap whole chestnuts in 1/3 strip of bacon. Bake for 30 minutes at 300° and then broil for 5 minutes.
MacGourmet Rating: 5 Stars
---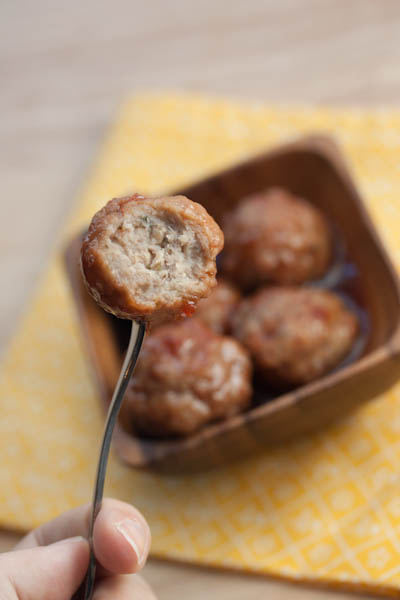 Sweet and Sour Meatball Sauce
1 12-oz. bottle chili sauce
1 jar 10-oz. grape jelly
¾ C. water (rinse the chili sauce bottle)
1 T. lemon juice
Mix together and add frozen meatballs to heat through. Easy to serve out of a slow cooker at parties.
MacGourmet Rating: 5 Stars
---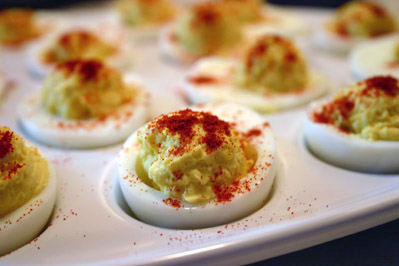 Deviled Eggs
Grandma
eggs, hard boiled
yellow mustard
white vinegar
sugar
mayonnaise
salt
black pepper
paprika, for garnish
This one you kind of have to do by taste – mash up the cooked egg yolks and mix with a big blob of Miracle Whip, a splash of white vinegar, a sprinkle of sugar, a squirt of yellow mustard, and salt & pepper. Mix it all in a bowl and put it back in the hollowed out eggs and top with paprika.
MacGourmet Rating: 5 Stars
---
Crisp Chicken Wings with Chili-Lime Butter
Tyler Florence
4 lbs. chicken wings
Extra-virgin olive oil
Kosher salt and freshly ground black pepper
8 tablespoons (1 stick) unsalted butter, softened
1 big, fat rounded tablespoon Thai red curry paste
¼ cup honey
¼ cup soy sauce
1 lime, halved
Chopped cilantro leaves, for garnish
Rinse the wings under cool water and pat dry. Put them in a bowl, drizzle with olive oil and season well with salt and pepper. Toss to coat with the seasoning. Then spread the wings out on a baking sheet and roast about 25 minutes until the skin gets crisp and brown, and the meat is tender.
While you wait, throw the butter, red curry paste honey and soy sauce into a blender. Season with salt and puree. Scrape into a big bowl. When the wings come out of the oven put add to the bowl with the curry butter. Squeeze the juice of the lime over the wings. Give it a toss and you're done. Garnish with cilantro.
Serves 4 to 6.
MacGourmet Rating: 5 Stars
(We also made "regular" hot wings with Frank's Red Hot Sauce)