Black Pepper Citrus Chicken
This post may contain affiliate links. Thank you for supporting the brands that keep me creative in my tiny kitchen!
I'm going to be sticking to some tried and true 5 star recipes for a while, since I'm still recovering from torn ligaments in my leg. It's been tough to get back into the swing of things, but I'm trying.
This dish is one of our favorites. It's really easy to put together and very tasty. The fresh citrus juices really make this dish shine.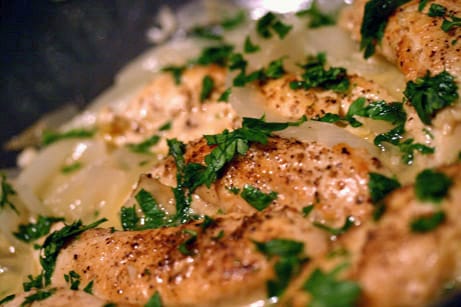 Black Pepper Citrus Chicken
Cooking Light January 2007
Be sure to use fresh, coarsely ground black pepper in this dish; finely ground will overpower the chicken.
1 tablespoon canola oil, divided
1 1/4 teaspoons freshly ground black pepper, divided
1/4 teaspoon salt
4 (6-ounce) skinless, boneless chicken breast halves
1 cup vertically sliced onion
2 teaspoons bottled minced garlic
1/4 cup white wine
2 tablespoons fresh orange juice
1 tablespoon fresh lemon juice
2 tablespoons chopped fresh parsley
Heat 1 teaspoon oil in a large nonstick skillet over medium-high heat. Sprinkle 1/2 teaspoon pepper and salt over chicken. Add chicken to pan; cook 2 minutes on each side or until browned. Remove chicken from pan; keep warm. Add remaining 2 teaspoons oil to pan. Add onion and garlic to pan; sauté 2 minutes. Add wine; cook 1 minute. Return chicken to pan. Add remaining 3/4 teaspoon pepper and juices. Cover, reduce heat, and simmer 4 minutes or until chicken is done. Sprinkle with parsley.
Yield: 4 servings (serving size: 1 chicken breast half and 2 tablespoons onion mixture)
Nutritional notes:
CALORIES 240(22% from fat); FAT 5.9g (sat 0.8g,mono 2.6g,poly 1.5g); PROTEIN 39.6g; CHOLESTEROL 99mg; CALCIUM 29mg; SODIUM 259mg; FIBER 0.5g; IRON 1.5mg; CARBOHYDRATE 3.8g
MacGourmet Rating: 5 Stars