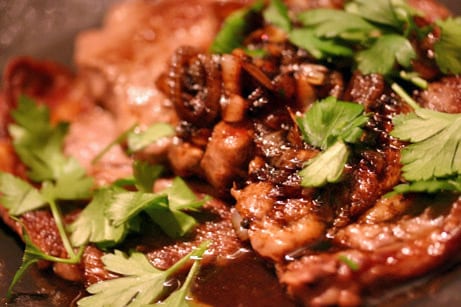 Steak in Balsamic Vinegar
This post may contain affiliate links. Thank you for supporting the brands that keep me creative in my tiny kitchen!
This is the second time I've made this recipe. It's so easy and delicious! I used ribeye steaks this time, and it was delicious! The sauce comes together really quickly, and it has a ton of flavor.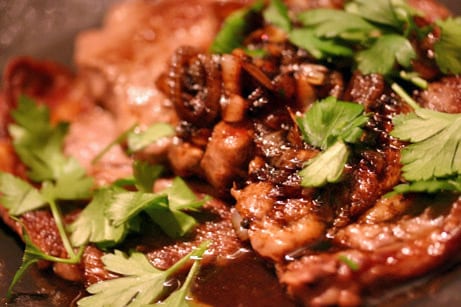 Steak in Balsamic Vinegar
The Silver Spoon
4 Servings
2 tablespoons butter
2 tablespoons olive oil
4 porterhouse steaks
1 shallot, chopped
2 teaspoons balsamic vinegar
1 sprig fresh flat-leaf parsley, chopped
salt
Heat 1 1/2 tablespoons of the butter and the oil in a skillet. Add the steaks and cook over high heat for 2-4 minutes on each side, depending on how well done you like your steak. Season with salt, transfer to a serving dish and keep warm. Add the shallot to the skillet and cook over low heat, stirring occasionally, for 5 minutes. Add the remaining butter and reduce a little, then stir in the vinegar. Remove the skillet from the heat and pour the sauce over the steaks, sprinkle with parsley and serve.
MacGourmet Rating: 5 Stars
---
I made a quick salad on the side that had mixed greens, goat cheese, shallots, pomegranate seeds, salt and pepper. I dressed it with some good extra-virgin olive oil and fig balsamic vinegar. YUM!