This post may contain affiliate links, which won't change your price but will share some commission.
This month, the Supper Club meeting was at our house. We decided to do a "brunch" theme instead of supper. It turned out really well, and there was a lot of great food! Dino made Belgian waffles, and they were amazing as usual.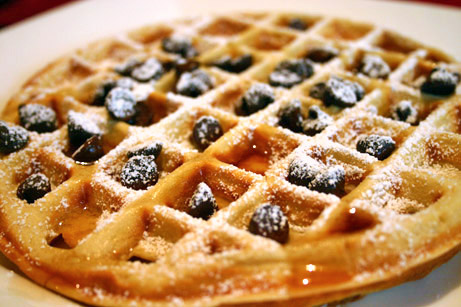 Belgian Waffles
Adapted From: allrecipes.com - Megan
"Simple waffles made with flour, egg, butter and sugar."
Serving Size: 5
Ingredients:
1 cup all-purpose flour
1 cup whole wheat flour
1 teaspoon salt
4 teaspoons baking powder
2 tablespoons white sugar
2 eggs
1 ½ cups warm milk
⅓ cup butter, melted
1 teaspoon vanilla extract
1 can vegetable oil spray
Prep Time: 20 Minutes
Cook Time: 15 Minutes
1. In a large bowl, mix together flour, salt and baking powder; set aside.
2. In a separate bowl, beat the eggs and sugar. Stir in the milk, butter and vanilla. Pour the milk mixture into the flour mixture; beat just until barely blended. Let stand for 10-20 minutes.
3. Preheat waffle iron to desired temperature.
4. Fully coat the iron with cooking spray. Ladle the batter into a preheated waffle iron. Cook the waffles until golden and crisp. Serve immediately.
MacGourmet Rating: 5 Stars
---
I decided that I wanted to try to make something inspired by a dish that we had at Chef Michael Symon's restaurant Lola in Cleveland - maple bacon ice cream. It sounds crazy, but you have to trust me - the combination of sweet and salty is great. Just think of how good it tastes when the syrup from your pancakes gets on your bacon. Now imagine that but with ice cream. WOW. I didn't put too much bacon in the ice cream (Dino was afraid I'd overdo it), but I sprinkled some on top of mine the next day to add more of that salty goodness. It was amazing. The pure maple syrup really shines in this ice cream. Adding bacon just makes it better!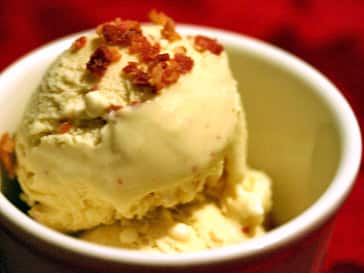 Maple Bacon Ice Cream
Adapted from spaghettiicecream.com
Beat the yolks of two eggs until light; add two-thirds of a cup of maple syrup and half a cup of milk. Cook over hot water, stirring constantly, until the mixture thickens; then pour over the stiffly beaten whites of two eggs and cool. When cold add a cup and a half of cream and freeze according to your ice cream maker's directions. Right before taking it out of the ice cream maker, add 1-2 strips of finely chopped cooked bacon and stir to incorporate. Freeze as directed, and serve with more bacon "sprinkles" on top.
MacGourmet Rating: 5 Stars