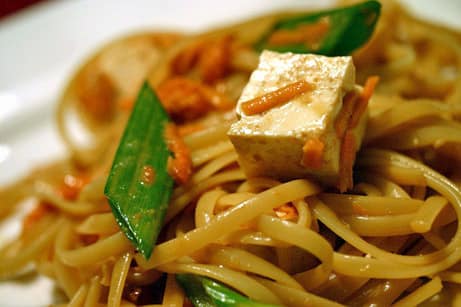 Fettuccine and Tofu With Finger-Licking Peanut Sauce
This post may contain affiliate links. Thank you for supporting the brands that keep me creative in my tiny kitchen!
I've been seeing rave reviews of this recipe over on the CLBB for a long time, and I finally got around to trying it. It was really good! The only thing I wasn't crazy about was throwing cold cubed tofu in there without doing anything to it. I think it would be better if you quickly fried it to make it nice and golden on the edges first. Anyway, it was really tasty and pretty quick to put together.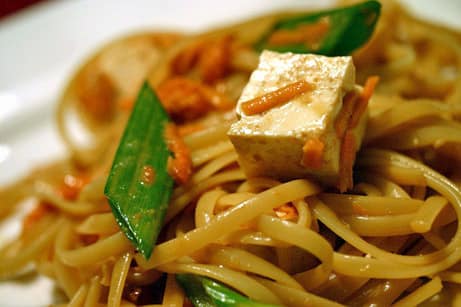 Fettuccine and Tofu With Finger-Licking Peanut Sauce
Cooking Light April 2001
1/2 cup low-sodium defatted chicken broth
1/4 cup chunky peanut butter
1/4 cup low sodium soy sauce
3 tablespoons brown sugar
2 tablespoons rice vinegar
2 teaspoons fresh ginger — grated peeled
2 teaspoons chile paste with garlic
4 garlic cloves — minced
8 ounces fettucine — uncooked
1 pound firm tofu — drained and cubed
1 cup green onions — (2-inch) sliced
1 cup carrot — shredded
Combine first 8 ingredients in a small saucepan. Cook over medium heat 5 minutes or until smooth, stirring frequently. Remove from heat.
Cook pasta in boiling water 8 minutes, omitting salt and fat. Add tofu, onions, and carrot; drain. Place pasta mixture in large bowl. Add peanut butter mixture; toss gently.
Serving size: 2 cups.
Serves 4.
Notes:
NOTES : This dish has endless variations: Substitute chicken, pork, or shrimp for the tofu and almost any kind of pasta for the fettuccine. Or add vegetables of your choice.
Nutritional notes:
Calories 465 (29% from fat); Fat 14.5g (sat 2.3g, mono 5.3g, poly 6g); Protein 23g; Carb 60.8g; Fiber 4.5g; Chol 1mg; Iron 9.6mg; Sodium 713mg; Calc 174mg
MacGourmet Rating: 4 Stars