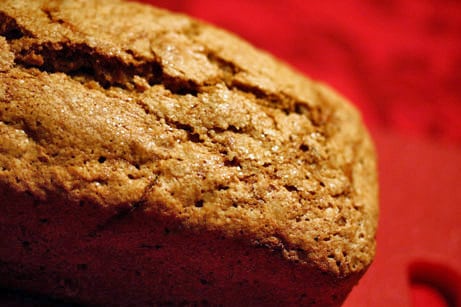 This post may contain affiliate links. Thank you for supporting the brands that keep me creative in my tiny kitchen!
This zucchini bread recipe is really good. I cut it in half (there are SO many recipes that make 2 loaves, but I just don't need that much bread for 2 people!) and it made a nice, moist loaf with a kind of crispy sweet crust. Dino loved it, and I thought it was really good, just not as good as the one my grandma makes. I have to see if she still has a recipe for hers so he can try that one…I haven't had it in years!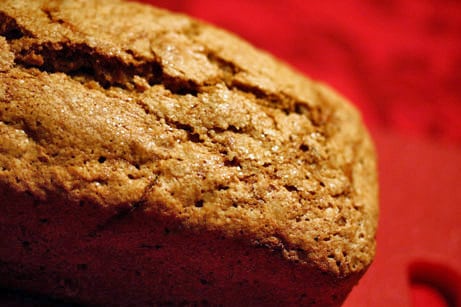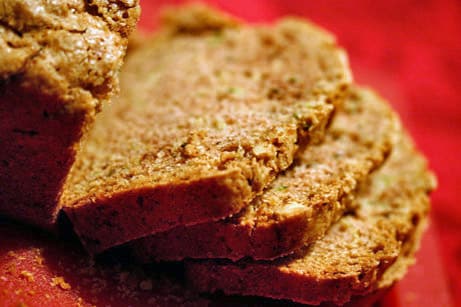 Zucchini-Walnut Bread
Boston Globe August 29, 2007
Butter (for the pans)
Flour (for the pans)
1 ½ cups flour
½ teaspoon baking soda
⅛ teaspoon baking powder
⅛ teaspoon salt
1 ½ teaspoons ground cinnamon
1 cup sugar
½ cup canola oil
1 ½ eggs
1 cup grated zucchini
1 ½ teaspoons vanilla extract
½ cup chopped walnuts
1. Set the oven at 350 degrees. Butter two 8 1/2-by-4 1/2-inch loaf pans,
then sprinkle them with flour, tapping out the excess.
2. In a large bowl, stir together the flour, baking soda, baking powder,
salt, and cinnamon; set aside.
3. In another bowl, combine the sugar, oil, eggs, zucchini, and vanilla.
4. Stir zucchini mixture into the flour mixture until well blended. Fold in
the nuts.
5. Divide the batter between the two pans. Transfer to the middle of the
oven. Bake the loaves for 1 hour or until a skewer inserted into the middle
of the loaves comes out clean. Cool on a wire rack for 15 minutes, then turn
out and set right side up to cool completely.
Makes 2 loaves
MacGourmet Rating: 4 Stars