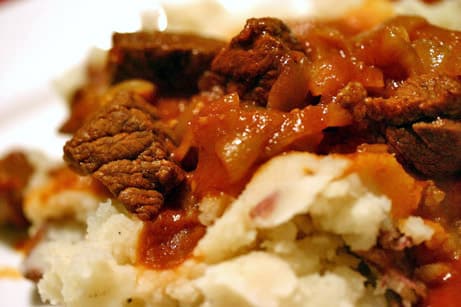 This post may contain affiliate links. Thank you for supporting the brands that keep me creative in my tiny kitchen!
This dish was really tasty. I didn't have Hungarian sweet paprika, so I used "regular". Dino has since taken a field trip to Penzy's in Grand Central Station to get a container of that (and Spanish smoked, too!) so next time, I'll be ready for it! I served this over some mashed potatoes. This was a nice, comforting meal.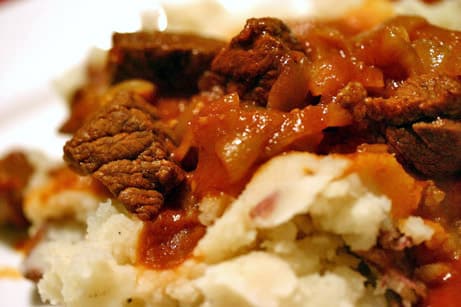 Hungarian Goulash I
allrecipes.com – ENVIRO2
Rated: 4 out of 5 by 79 members Prep Time: 15 Minutes
Cook Time: 2 Hours Ready In: 2 Hours 15 Minutes
Yields: 8 servings
"Beef chuck is slowly stewed with onion, garlic, tomato paste and sweet Hungarian paprika for a tender, mildly spicy comforting dish."
⅓ cup vegetable oil
3 onions, sliced
2 tablespoons Hungarian sweet paprika
2 teaspoons salt
½ teaspoon ground black pepper
3 lbs. beef stew meat, cut into 1 1/2 inch cubes
1 (6 ounce can) tomato paste
1 ½ cups water
1 clove garlic, minced
1 teaspoon salt
1. Heat oil in a large pot or Dutch oven over medium heat. Cook onions in oil until soft, stirring frequently. Remove onions and set aside.
2. In a medium bowl, combine paprika, 2 teaspoons salt and pepper. Coat beef cubes in spice mixture, and cook in onion pot until brown on all sides. Return the onions to the pot, and pour in tomato paste, water, garlic and the remaining 1 teaspoon salt. Reduce heat to low, cover and simmer, stirring occasionally, 1 1/2 to 2 hours, or until meat is tender.
MacGourmet Rating: 4 Stars