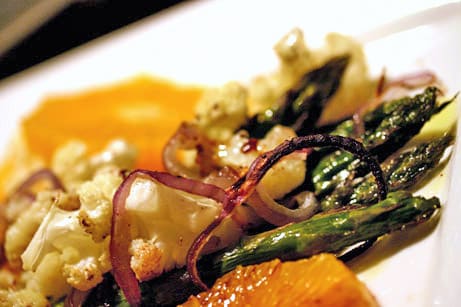 Roasted Veggie Salad with Goat Cheese Cakes
This post may contain affiliate links. Thank you for supporting the brands that keep me creative in my tiny kitchen!
This recipe was easy to put together and very tasty. The only issue I had with it was the directions for cooking the goat cheese. It didn't get brown on top – it melted before it had a chance to. Next time, I'd just pan-fry the cheese quickly in a nonstick skillet in a little oil so that it would get a nice crust without melting. This was a surprisingly filling meal, and the orange and balsamic really pulled the whole meal together.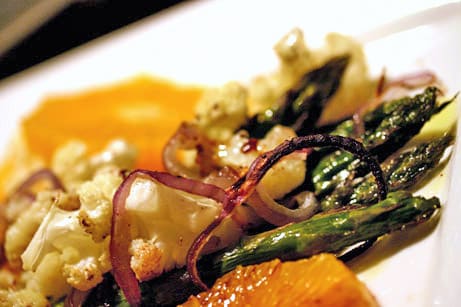 Roasted Veggie Salad with Goat Cheese Cakes
Every Day with Rachael Ray April 2008
SERVES 4
Prep Time: 20 min
Cook Time: 15 min
1 small head cauliflower, florets cut into bite-size pieces
¼ cup extra-virgin olive oil
2 bunches asparagus (about 1 1/2 pounds total), trimmed
Salt and pepper
1 red onion, sliced into thin rings
½ cup almonds (about 4 ounces), finely ground
One 11-ounce log goat cheese, at room temperature, cut crosswise into 8 rounds
2 oranges, peel and pith discarded, sliced into 6 rounds each
2 tablespoons balsamic vinegar
1. Position a rack in the upper third of the oven and preheat to 450°. Place the cauliflower on a rimmed baking sheet, drizzle with 1 tablespoon olive oil and toss; arrange in a single layer on one side of the baking sheet. Place the asparagus on the opposite side and toss with 1 tablespoon oil. Season with salt and pepper, scatter the onion on top of the asparagus and roast until golden, about 10 minutes. Let cool, leaving the oven on.
2. Place the ground almonds in a shallow bowl. Pour 2 tablespoons olive oil onto a plate; coat each goat cheese round with the oil, reserving the extra oil. Gently turn the cheese rounds in the nuts to coat and place on a baking sheet. Bake until lightly toasted, 3 to 4 minutes.
3. Divide the roasted vegetables and the orange rounds among 4 plates. Drizzle each plate with the reserved oil and 1/2 tablespoon balsamic vinegar. Serve with 2 goat cheese rounds each.
MacGourmet Rating: 4 Stars