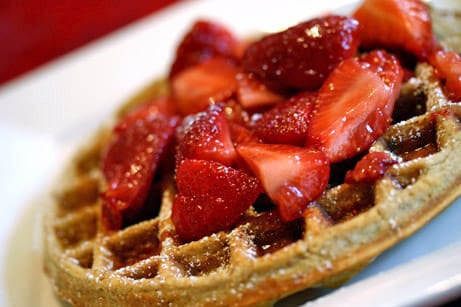 This post may contain affiliate links. Thank you for supporting the brands that keep me creative in my tiny kitchen!
There were some waffles left in the freezer from the last time Dino made them, and I had bought some strawberries Friday night, so I decided to make a nice topping for them the way my grandma used to make for ice cream. You just quarter some strawberries, put a few spoons of sugar on top, let it sit for a few minutes and then mash till it's nice and juicy but still chunky. It was perfect on top of the waffles, and a light dusting of powdered sugar finished them off. YUM!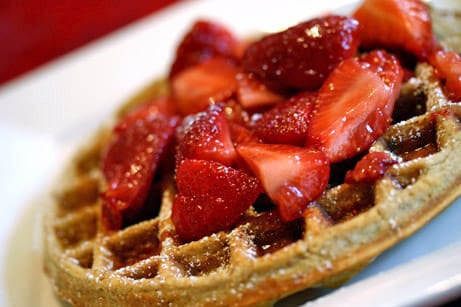 Belgian Waffles
Adapted From: allrecipes.com – Megan
"Simple waffles made with flour, egg, butter and sugar."
Serving Size: 5
Ingredients:
1 cup all-purpose flour
1 cup whole wheat flour
1 teaspoon salt
4 teaspoons baking powder
2 tablespoons white sugar
2 eggs
1 1/2 cups warm milk
1/3 cup butter, melted
1 teaspoon vanilla extract
1 can vegetable oil spray
Prep Time: 20 Minutes
Cook Time: 15 Minutes
1. In a large bowl, mix together flour, salt and baking powder; set aside.
2. In a separate bowl, beat the eggs and sugar. Stir in the milk, butter and vanilla. Pour the milk mixture into the flour mixture; beat just until barely blended. Let stand for 10-20 minutes.
3. Preheat waffle iron to desired temperature.
4. Fully coat the iron with cooking spray. Ladle the batter into a preheated waffle iron. Cook the waffles until golden and crisp. Serve immediately.
MacGourmet Rating: 5 Stars