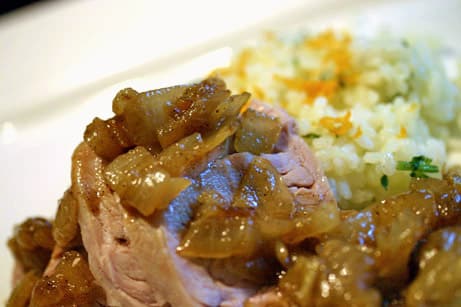 Pork Tenderloin with Onion Marmalade and Zesty Rice | Fried Zucchini
This post may contain affiliate links. Thank you for supporting the brands that keep me creative in my tiny kitchen!
I made this dish for the second time for Easter dinner and it turned out wonderfully! This is a great way to make pork into something easy yet fancy.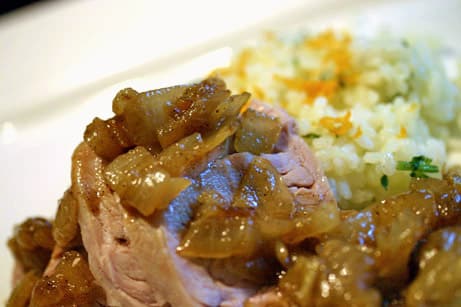 Pork Tenderloin with Onion Marmalade and Zesty Rice
Every Day with Rachael Ray May 2007
2 pork tenderloins
1 tablespoon extra-virgin olive oil
Salt
3 tablespoons butter
2 sweet onions, finely chopped
1 tablespoon ground cumin
Juice and grated peel of 1 orange
2 tablespoons honey
1 cup rice
¼ cup chopped cilantro
Four Servings
Prep Time: 10 min
Cook Time: 35 min
1. Preheat the oven to 500°. Place the pork in a roasting pan, rub with the olive oil and season with salt. Roast for 10 minutes, then turn over and roast for another 10 minutes. Remove the tenderloins from the oven and let rest for 10 minutes.
2. Meanwhile, in a large skillet, melt 2 tablespoons butter over medium-low heat, add the onions and cook, stirring occasionally, until softened, 10 to 15 minutes. Stir in the cumin and half the orange juice; cook for 5 minutes. Stir in the honey and cook for 5 minutes more. Let cool.
3. In a medium saucepan, bring 1 1/2 cups salted water to a boil, stir in the rice, cover, lower the heat and simmer for 15 minutes. Remove from the heat and let rest for 5 minutes. Stir in the remaining 1 tablespoon butter, then the remaining orange juice and the cilantro. Season with salt.
4. Spoon the rice onto plates and sprinkle with the grated orange peel. Cut the pork diagonally into 1/2-inch slices and place on the rice. Spoon the onion marmalade over the pork and serve extra on the side.
MacGourmet Rating: 5 Stars
---
I also made a quick side dish that my grandma used to make a lot – fried zucchini. You just slice the zucchini into coins and set up 2 dipping plates. In one, beat an egg or 2. In the other, have flour seasoned with salt and pepper. Dip the coins in the egg, flour, and back into the egg. Fry on both sides in a nonstick skillet that has vegetable oil in it until golden. Remove to a paper towel lined plate and add a little more salt while they're still hot. Yum!