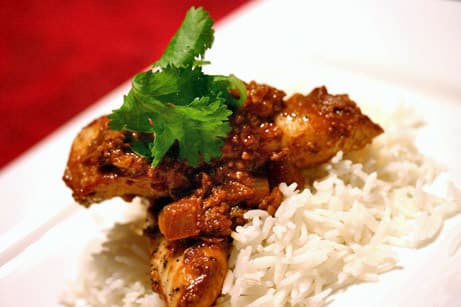 Persian Pomegranate-Walnut Chicken
This post may contain affiliate links. Thank you for supporting the brands that keep me creative in my tiny kitchen!
This dish was really flavorful and different. The chicken stayed very moist, and it was another great way to use pomegranate. I served it over basmati rice and had a little plain yogurt on the side. Yum!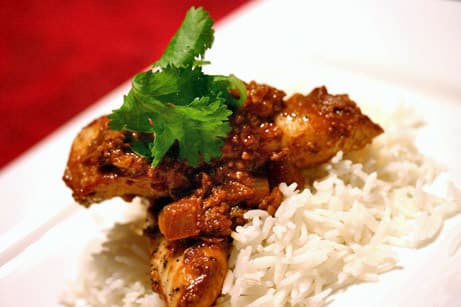 Persian Pomegranate-Walnut Chicken
Cooking Light April 2008
Based on the Persian dish fesenjan, this streamlined entrée features a sweet-tart sauce of pomegranate juice thickened with ground walnuts. After toasting, cool the nuts completely before grinding.
1 cup walnuts, toasted
8 (6-ounce) skinless, boneless chicken breast halves
1 ¾ teaspoons kosher salt, divided
½ teaspoon freshly ground black pepper, divided
Cooking spray
½ cup finely chopped onion
2 cloves, garlic minced
1 cup fat-free, less-sodium chicken broth
1 cup pomegranate juice
1 tablespoon tomato paste
2 teaspoons sugar
⅛ teaspoon saffron threads, crushed
Dash of ground cinnamon
Cilantro sprigs (optional)
1. Place walnuts in a food processor; process until finely ground. Set aside.
2. Sprinkle chicken with 1 teaspoon salt and 1/4 teaspoon pepper. Heat a large nonstick skillet over medium-high heat. Coat pan with cooking spray. Add half of chicken to pan; cook 4 minutes on each side. Remove from pan. Repeat procedure with remaining chicken.
3. Recoat pan with cooking spray. Add onion and garlic to pan; sauté 3 minutes. Add remaining 3/4 teaspoon salt, remaining 1/4 teaspoon pepper, ground walnuts, broth, and the remaining ingredients except cilantro, stirring with a whisk until smooth. Bring to a boil; reduce heat, and simmer until reduced to 1 1/2 cups (about 15 minutes), stirring occasionally. Return chicken to pan; cover and simmer 10 minutes or until thoroughly heated. Garnish with cilantro sprigs, if desired.
Yield 8 servings (serving size: 1 chicken breast half and about 3 tablespoons sauce)
Nutritional notes:
CALORIES 299(31% from fat); FAT 10.3g (sat 1.3g,mono 1.6g,poly 6.4g); PROTEIN 41.7g; CHOLESTEROL 99mg; CALCIUM 41mg; SODIUM 585mg; FIBER 1.2g; IRON 1.7mg; CARBOHYDRATE 9g
MacGourmet Rating: 4 Stars