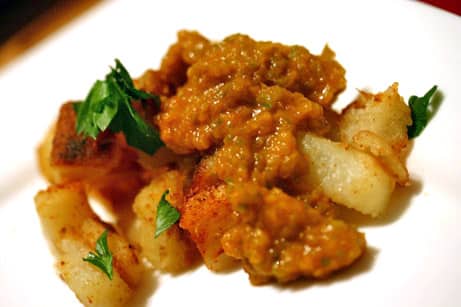 This post may contain affiliate links. Thank you for supporting the brands that keep me creative in my tiny kitchen!
I was excited to see this recipe, as it's one of our favorite dishes to order from a local tapas restaurant. The results were really good, but not quite what I was used to. The green pepper gives the sauce a lot of flavor.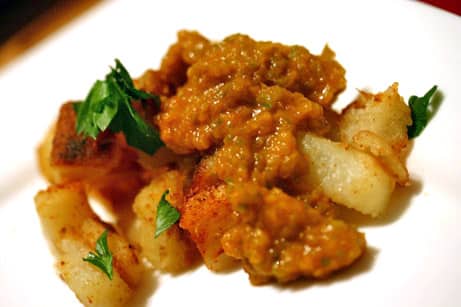 Patatas Bravas
Cooking Light April 2008
Spanish for "fierce potatoes," patatas bravas are a common tapas offering of crisp potato cubes served with a spicy sauce. If you like fiery food, use one-fourth to one-half teaspoon red pepper in the sauce. For the crispest potatoes, stir only every two or three minutes; frequent stirring can damage them.
Potatoes:
4 cups (1-inch) cubed peeled baking potato (about 1 1/2 pounds)
1 tablespoon butter
2 teaspoons olive oil
¼ teaspoon salt
⅛ teaspoon ground red pepper
2 cloves, garlic minced
Sauce:
1 teaspoon olive oil
1 cup diced onion
1 cup diced green bell pepper
¼ teaspoon salt
⅛ teaspoon ground red pepper
1 can (8-ounce) tomato sauce
Parsley sprigs (optional)
1. To prepare potatoes, place potato in a medium saucepan; cover with water. Bring to a boil. Cook 1 minute or until crisp-tender; drain well.
2. Heat a large nonstick skillet over medium-high heat. Add butter and 2 teaspoons oil to pan, swirling to coat bottom of pan; heat 30 seconds or until foam subsides. Add potato to pan; sauté 8 minutes or until browned, stirring twice. Stir in 1/4 teaspoon salt, 1/8 teaspoon red pepper, and garlic; sauté 1 minute. Remove potato mixture from pan; keep warm.
3. To prepare sauce, heat pan over medium-high heat. Add 1 teaspoon oil to pan, swirling to coat; heat 15 seconds. Add onion and bell pepper; sauté 5 minutes or until tender, stirring frequently. Add 1/4 teaspoon salt, 1/8 teaspoon red pepper, and tomato sauce; bring to a simmer. Cook 1 minute. Pour onion mixture into a blender. Remove center piece of blender lid (to allow steam to escape); secure blender lid on blender. Place a clean towel over opening in blender lid (to avoid splatters). Blend until smooth. Serve sauce with potato mixture. Garnish with parsley sprigs, if desired.
Yield 6 servings (serving size: 2/3 cup potato mixture and 1/4 cup sauce)
Nutritional notes:
CALORIES 153(26% from fat); FAT 4.4g (sat 1.6g,mono 2.2g,poly 0.4g); PROTEIN 3.5g; CHOLESTEROL 5mg; CALCIUM 31mg; SODIUM 416mg; FIBER 2.9g; IRON 1.5mg; CARBOHYDRATE 26.5g
MacGourmet Rating: 4 Stars