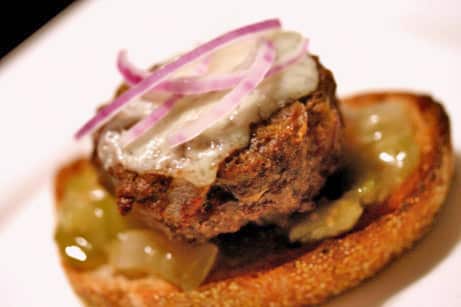 Spiked Spanish Burgers with Warm Tomatillo Sauce
This post may contain affiliate links. Thank you for supporting the brands that keep me creative in my tiny kitchen!
I was inspired to make a Spanish-style burger to go with the Patatas Bravas, and this turned out so much better than I ever could have hoped for! I tried to make notes about what I put into them, but I've only made them once, so I can't definitely say that the recipe will duplicate well…yet!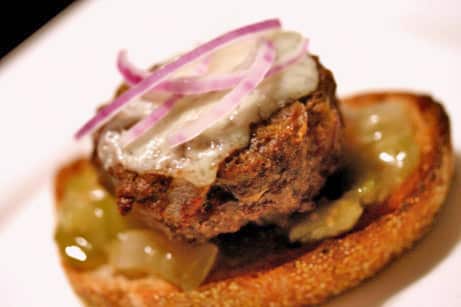 Spiked Spanish Burgers with Warm Tomatillo Sauce
You'll need a fork and knife to enjoy this burger!
1 red onion, half diced, half sliced
1 ¼ pounds ground beef
1 egg
salt and freshly ground black pepper
1 teaspoon smoked Spanish paprika
½ teaspoon garlic powder
½ teaspoon chipotle chile powder
1 shot tequilla
½ lime, zested
1 tablespoon extra-virgin olive oil
1 clove garlic, minced
8 tomatillos, shucked and chopped
whole wheat ciabatta bread, sliced and lightly toasted
Manchego cheese, sliced
Heat 1T olive oil in a medium saucepan. sauté half of the diced red onion, garlic and tomatillos until it they soften and then thicken into a sauce.
Mix remaining diced red onion with beef and next 7 ingredients (through lime zest) with hands in a large bowl. Form into patties and broil to your desired doneness. Add sliced cheese on top, if desired, and stick back under broiler to melt.
To plate, slather the top of a toasted piece of ciabatta with tomatillo salsa. Top with burger and onion slices.
MacGourmet Rating: 5 Stars