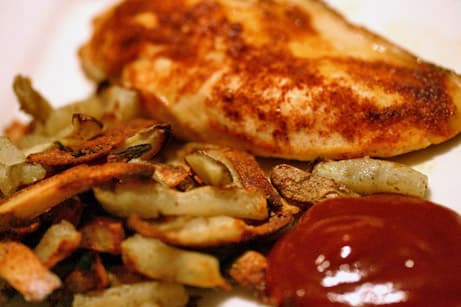 Barbecue-Spiced Chicken | Garlic and Cumin–Seasoned Fries with Chipotle Ketchup
This post may contain affiliate links. Thank you for supporting the brands that keep me creative in my tiny kitchen!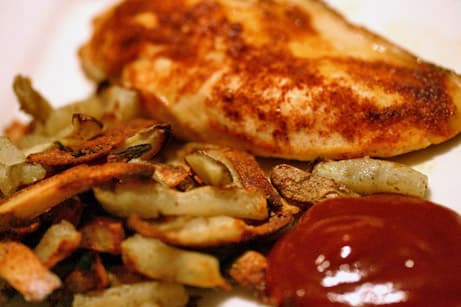 This dinner was OK, but definitely nothing special.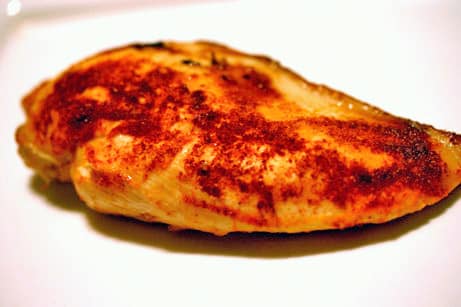 Barbecue-Spiced Chicken
Cooking Light March 2008
Preheat oven to 350°. Combine 2 teaspoons onion powder, 1 1/2 teaspoons salt, 1 1/2 teaspoons paprika, and 1/2 teaspoon chipotle chile powder; sprinkle evenly over 8 (6-ounce) skinless, boneless chicken breasts. Heat a large nonstick skillet over medium-high heat. Coat pan with cooking spray. Add half of chicken to pan; sauté 2 minutes on each side. Remove chicken from pan. Repeat procedure with remaining chicken. Arrange chicken on a jelly-roll pan. Bake at 350° for 12 minutes or until done.
MacGourmet Rating: 3 Stars
---
These fries were good, but they didn't get crispy enough for me. I don't think I had the oven rack up high enough. The ketchup has great flavor, and the fries would be really great if you get them crispy enough.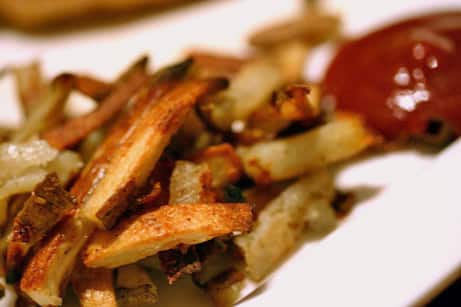 Garlic and Cumin–Seasoned Fries with Chipotle Ketchup
Cooking Light April 2008
In this recipe, strips of potatoes are tossed with dried spices and baked to a crunch. The ketchup on the side delivers an extra punch of flavor.
½ cup ketchup
1 teaspoon sugar
1 teaspoon fresh lime juice
¼ teaspoon ground chipotle chile powder
½ teaspoon ground cumin
¼ teaspoon salt
¼ teaspoon garlic powder
2 lbs. peeled Yukon gold potatoes, cut into 1/4-inch strips
1 tablespoon extravirgin olive oil
Cooking spray
1. Combine first 4 ingredients in a small bowl. Combine cumin, salt, and garlic powder in a large bowl.
2. Preheat oven to 450°. Place baking sheet in oven.
3. Toss potatoes with oil. Arrange potatoes in a single layer on preheated baking sheet coated with cooking spray. Bake at 450° for 10 minutes. Turn potatoes; bake an additional 5 minutes or until golden and crisp. Add potatoes to cumin mixture; toss gently to coat. Serve immediately with ketchup mixture.
Yield 6 servings (serving size: 1 cup fries and about 1 tablespoon ketchup mixture)
Nutritional notes:
CALORIES 143(16% from fat); FAT 2.5g (sat 0.3g,mono 1.7g,poly 0.3g); PROTEIN 3.9g; CHOLESTEROL 0.0mg; CALCIUM 13mg; SODIUM 329mg; FIBER 2.7g; IRON 1.1mg; CARBOHYDRATE 26.1g
MacGourmet Rating: 4 Stars