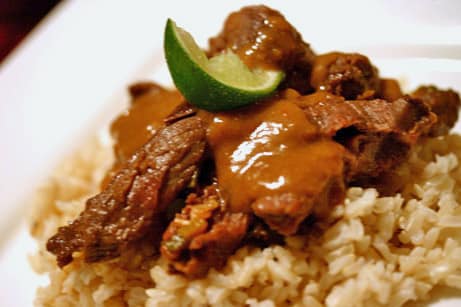 Flank Steak with Hot Peanut Sauce
This post may contain affiliate links. Thank you for supporting the brands that keep me creative in my tiny kitchen!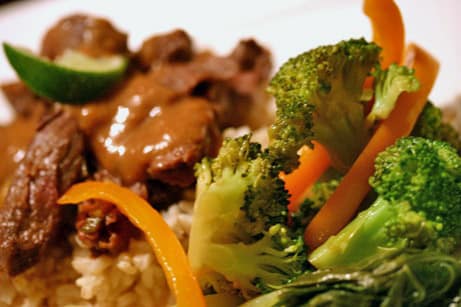 This meal had so much potential! I was at Trader Joe's, so I decided to get my flank steak there. I figured that since it was organic, grain fed beef, it would be really great, but it ended up being really tough. I mean really tough. We could barely chew through it. It was really disappointing because the flavor of the sauce was wonderful, but we just couldn't get through the meat. I served it with a mix of broccoli, red bell pepper and baby bok choy that I sauteéd with some soy sauce and teriyaki.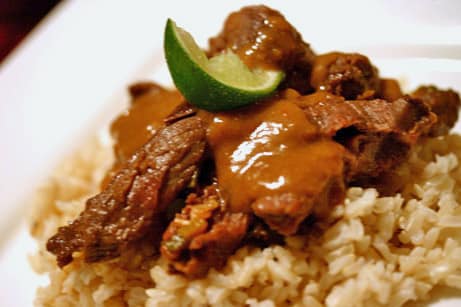 Flank Steak with Hot Peanut Sauce
Cooking Light April 2008
By keeping the meat serving to a sensible three-ounce cooked portion and using the low-fat but flavorful flank cut, this entrée limits saturated fat while offering plenty of iron and protein. Prepare steamed rice and sautéed baby bok choy while the meat marinates.
⅓ cup chopped green onions
⅓ cup low-sodium soy sauce
1 tablespoon brown sugar
1 tablespoon minced peeled fresh ginger
1 tablespoon fresh lime juice
2 teaspoons sesame oil
1 teaspoon crushed red pepper
2 garlic cloves, minced
1 (1-pound) flank steak, trimmed and cut diagonally into thin slices
½ cup water
1 tablespoon crunchy peanut butter
1 teaspoon cornstarch
1. Combine first 8 ingredients in a small bowl, stirring with a whisk. Place steak and 1/4 cup onion mixture in a large zip-top plastic bag; seal. Marinate in refrigerator at least 2 hours or overnight, turning bag occasionally.
2. Combine remaining 1/4 cup marinade, 1/2 cup water, peanut butter, and cornstarch in a small saucepan. Bring to a simmer; cook 1 minute, stirring frequently. Remove from heat; keep warm.
3. Remove steak from bag, discarding marinade. Heat a large nonstick skillet over medium-high heat. Add beef to pan; cook 2 minutes on each side or until desired degree of doneness. Serve with sauce.
Yield 4 servings (serving size: 3 ounces steak and about 1/4 cup sauce)
Nutritional notes:
CALORIES 212(38% from fat); FAT 9g (sat 2.9g,mono 3.7g,poly 1.4g); PROTEIN 25.8g; CHOLESTEROL 37mg; CALCIUM 29mg; SODIUM 549mg; FIBER 0.7g; IRON 2mg; CARBOHYDRATE 6.4g
MacGourmet Rating: 4 Stars