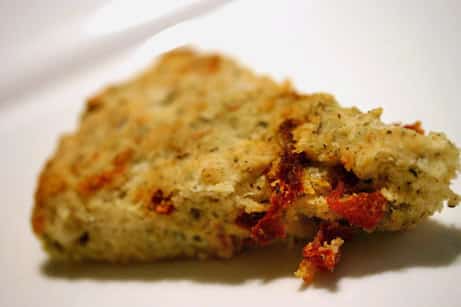 Manchego, Herb, and Sun-dried Tomato Scones
This post may contain affiliate links. Thank you for supporting the brands that keep me creative in my tiny kitchen!
These savory scones are really different than the scones we're used to in my house. They kind of taste like pizza. The basil at the store looked pretty terrible, so I subbed half the amount of dried. I can only imagine it would taste better with fresh. It was really good and very different.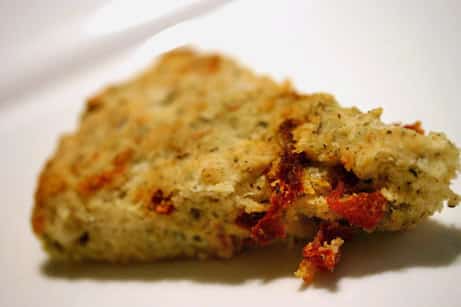 Manchego, Herb, and Sun-dried Tomato Scones
Cooking Light April 2008
Since cheeses contain saturated fat, use flavorful ones in small amounts. Spanish Manchego cheese adds mild, nutty notes and a salty punch to these scones. The longer the cheese has aged, the sharper the flavor. Ready-to-use sun-dried tomatoes don't require rehydration and add hearty flavor without extra fat.
2 cups all-purpose flour (about 9 ounces)
1 ½ teaspoons baking powder
¼ teaspoon salt
3 tablespoons chilled butter, cut into small pieces
½ cup (2 ounces) shredded Manchego cheese
½ cup chopped ready-to-use sun-dried tomatoes (2 ounces)
2 tablespoons chopped fresh basil
¾ cup low-fat buttermilk
2 large egg whites
Cooking spray
1. Preheat oven to 425°.
2. Lightly spoon flour into dry measuring cups; level with a knife. Combine flour, baking powder, and salt in a large bowl, stirring with a whisk. Cut in butter with a pastry blender or 2 knives until mixture resembles coarse meal. Stir in cheese, tomatoes, and basil. Add buttermilk and egg whites, stirring just until moist.
3. Turn dough out onto a lightly floured surface; knead lightly 4 times with floured hands. Pat dough into an 8-inch circle on a baking sheet coated with cooking spray. Cut dough into 8 wedges, cutting into but not through dough. Coat top of dough lightly with cooking spray. Bake at 425° for 15 minutes or until scones are golden.
Yield 8 servings (serving size: 1 scone)
Nutritional notes:
CALORIES 197(29% from fat); FAT 6.4g (sat 3.8g,mono 1.6g,poly 0.4g); PROTEIN 7.4g; CHOLESTEROL 17mg; CALCIUM 141mg; SODIUM 382mg; FIBER 1.3g; IRON 1.9mg; CARBOHYDRATE 27.5g
MacGourmet Rating: 4 Stars