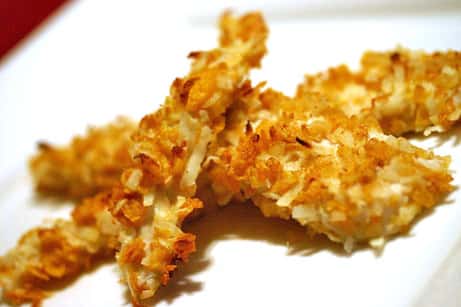 Crunchy Buttermilk-Coconut Chicken Fingers
This post may contain affiliate links. Thank you for supporting the brands that keep me creative in my tiny kitchen!
These chicken fingers blew us away! They have so much flavor, and they don't need a dipping sauce. The only negative about this recipe is that it's hard to reheat them because they don't get crispy after the first time you cook them. We tried the microwave and the oven, but they're best made fresh. This is definitely a keeper!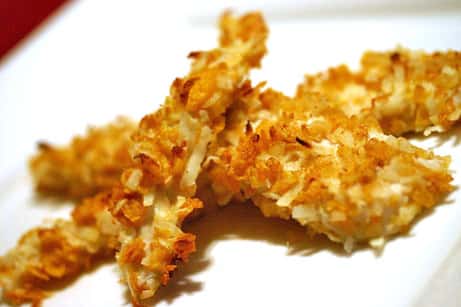 Crunchy Buttermilk-coconut Chicken Fingers
Cooking Light April 2008
These crispy chicken fingers appeal to kids, so serve them with ketchup for dipping. Grown-ups will enjoy them atop a salad.
1 lb. skinless, boneless chicken breasts
1 ½ cups fat-free buttermilk
½ cup all-purpose flour (about 2 1/4 ounces)
1 large egg, lightly beaten
1 large egg white, lightly beaten
¾ cup crushed cornflakes
¾ cup flaked sweetened coconut, chopped
1 teaspoon garlic powder
¾ teaspoon salt
½ teaspoon curry powder
¼ teaspoon ground red pepper
Cooking spray
1. Cut chicken into 20 (1/4-inch-thick) strips. Combine chicken and buttermilk in a shallow dish; cover and chill 1 hour. Drain chicken, discarding liquid. Combine chicken and flour in a medium bowl, tossing to coat.
2. Preheat oven to 475°. Place baking sheet in oven.
3. Combine egg and egg white in a small bowl. Combine crushed cornflakes and next 5 ingredients (through ground red pepper) in a shallow dish.
4. Working with 1 chicken strip at a time, dip into egg mixture; dredge in cornflake mixture. Repeat procedure with remaining chicken, egg mixture, and cornflake mixture. Arrange chicken in a single layer on preheated baking sheet coated with cooking spray. Lightly coat chicken with cooking spray. Bake at 475° for 6 minutes or until done. Serve immediately.
Yield 4 servings (serving size: 5 chicken fingers)
Nutritional notes:
CALORIES 346(19% from fat); FAT 7.4g (sat 4.8g,mono 1g,poly 0.6g); PROTEIN 35g; CHOLESTEROL 120mg; CALCIUM 139mg; SODIUM 767mg; FIBER 1.7g; IRON 4.2mg; CARBOHYDRATE 33.8g
MacGourmet Rating: 5 Stars