Potato Chips with Blue Cheese Dip
This post may contain affiliate links. Thank you for supporting the brands that keep me creative in my tiny kitchen!
This recipe turned out awesome! I used my new mandoline to get really thin chips, and they got nice and crispy. The sauce is really good, and I have some leftover, so I'm going to have to get more potatoes to make more chips. I'm anxious to play around with different seasoning blends to make homemade potato chip flavors more often! Hey, baked chips are healthy, right?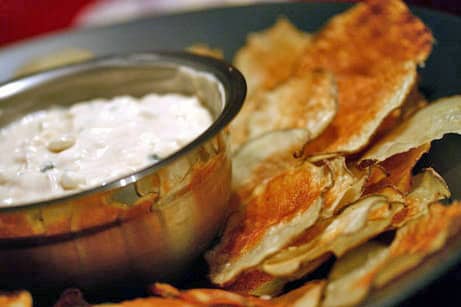 Potato Chips with Blue Cheese Dip
Cooking Light April 2008
This recipe received our Test Kitchens' highest rating. Use a mandoline to cut the potato for the best results; hand-cutting is less likely to produce sufficiently thin and uniform slices. If you have any leftover chips, store them in an airtight container for up to a week. You'll need to bake them for two minutes at 450° to recrisp before eating.
⅓ cup (1 1/2 ounces) finely crumbled blue cheese
⅓ cup fat-free sour cream
2 tablespoons light mayonnaise
2 tablespoons skim milk
¼ teaspoon Worcestershire sauce
1 lb. russet potato, thinly sliced (about 1 large), divided
Cooking spray
½ teaspoon salt, divided
1. Preheat oven to 400°. Place baking sheet in oven.
2. Combine first 5 ingredients in a small bowl, stirring well. Cover and chill.
3. Place potato slices on paper towels; pat dry. Arrange half of potato slices in a single layer on preheated baking sheet coated with cooking spray. Sprinkle with 1/4 teaspoon salt. Bake at 400° for 10 minutes. Turn potato slices over; bake an additional 5 minutes or until golden. Repeat procedure with remaining potatoes and remaining 1/4 teaspoon salt. Serve immediately with blue cheese mixture.
Yield 6 servings (serving size: about 1/2 cup chips and about 2 tablespoons dip)
Nutritional notes:
CALORIES 117(29% from fat); FAT 3.7g (sat 1.6g,mono 0.6g,poly 0.1g); PROTEIN 4.2g; CHOLESTEROL 9mg; CALCIUM 80mg; SODIUM 352mg; FIBER 1g; IRON 0.7mg; CARBOHYDRATE 16.8g
MacGourmet Rating: 5 Stars