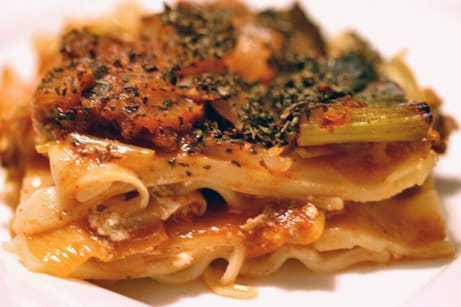 Afghani Meat and Noodle Casserole
This post may contain affiliate links. Thank you for supporting the brands that keep me creative in my tiny kitchen!
I've had this recipe for a long time and finally tried it out. It sounds weird, but it's actually really good! The mint on top is really nice, and it's interesting to have yogurt instead of cheese inside. This is definitely a nice change of pace from a "normal" lasagna.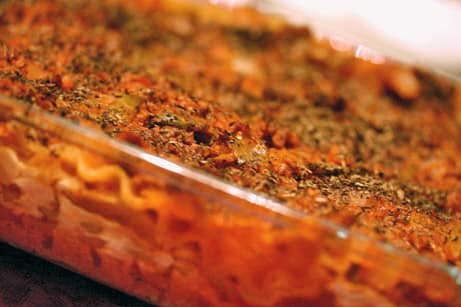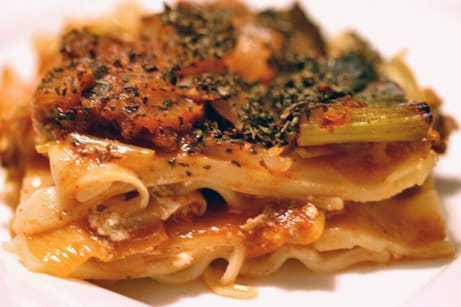 Afghani Meat and Noodle Casserole
Adapted from The Universal Kitchen by Elisabeth Rozin (by recipes.wuzzle.org)
2 Cups Yogurt
2 Large Leek — Chopped
3 Tablespoons Butter
1 Pound Ground Beef
2 Large Onion — Chopped
2 Cups Tomato Sauce
1/2 Teaspoon Salt
1 Teaspoon Coriander
1 Teaspoon Cumin
1/2 Teaspoon Pepper
1/2 Teaspoon Cayenne
12 Ounces Lasagna Noodles — Broken
3 Cloves Garlic — Chopped
1 Tablespoon Mint
Sauté leeks in butter for 5 minutes. Add meat and brown, add onions and sauté until golden, add tomato sauce, salt, coriander, cumin, pepper and cayenne, simmer 30 minutes. cook noodles as directed. combine yogurt and garlic, stir well. Butter a 13×9 inch baking pan, put half yogurt on the bottom, layer with 1/2 noodles, 1/2 meat sauce, repeat ending in meat sauce. Sprinkle mint over top and bake for 35 minutes at 350 degrees.
MacGourmet Rating: 4 Stars
---
I also made a salad with baby spinach, pears, Gorgonzola, red onion and dried cranberries, tossed it with seasoned red wine vinegar and extra-virgin olive oil, and added fleur de sal and fresh cracked black pepper. It was really good!