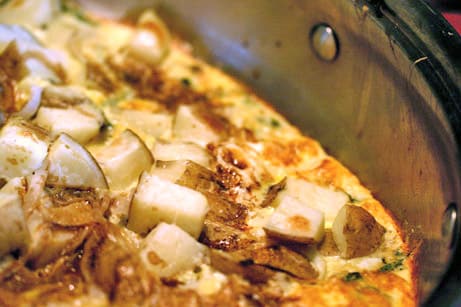 This post may contain affiliate links. Thank you for supporting the brands that keep me creative in my tiny kitchen!
I made this recipe a while ago and loved it, but this time around it wasn't as good. I rated it a 5 last time, but this time it was more like a 3. I think I should use a smaller pan so that it gets thicker and doesn't set as hard. So I'm not sure if I'll be making this one again. Hmm…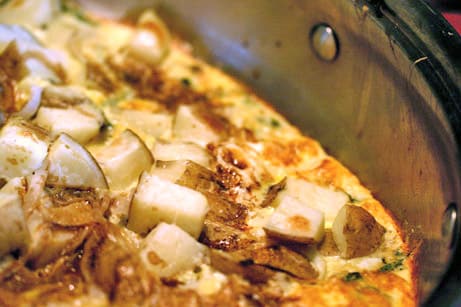 Basil-Potato Frittata
Cooking Light May 1995
2 cups diced baking potato (about 1 large)
Vegetable cooking spray
½ cup thinly sliced onion, separated into rings
¼ cup (1/2 ounce) finely grated fresh Parmesan cheese, divided
1 tablespoon chopped fresh basil
2 tablespoons water
½ teaspoon salt
½ teaspoon hot sauce
4 egg whites, lightly beaten
3 eggs, lightly beaten
1 tablespoon balsamic vinegar
Place the diced potato in a medium saucepan; cover with water, and bring to a boil. Cook 7 minutes or until tender. Drain and let cool.
Coat a large nonstick skillet with cooking spray; place over medium heat until hot. Add onion; sauté 6 minutes or until tender. Remove from heat, and set aside.
Combine 3 tablespoons of cheese, basil, and the next 5 ingredients (basil through eggs) in a medium bowl; stir in potato and onion. Wipe skillet with paper towels, and recoat with cooking spray. Place skillet over medium heat until hot. Add egg mixture, and cook 6 minutes or until almost set.
Wrap handle of skillet with foil, and broil 1 1/2 minutes. Top with remaining cheese, and broil for 30 seconds or until cheese melts. Drizzle vinegar over the frittata, and cut into 4 wedges. Serve warm.
Nutritional notes:
CALORIES 163(28% from fat); FAT 5g (sat 1.8g,mono 1.7g,poly 0.6g); PROTEIN 11.7g; CHOLESTEROL 162mg; CALCIUM 80mg; SODIUM 463mg; FIBER 1.8g; IRON 1.8mg; CARBOHYDRATE 17.8g