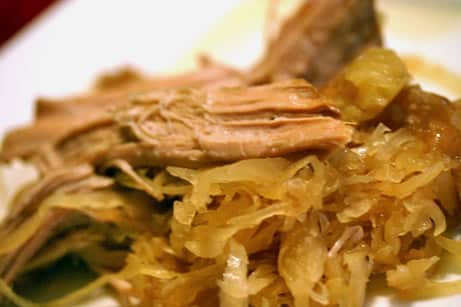 This post may contain affiliate links. Thank you for supporting the brands that keep me creative in my tiny kitchen!
I made this slow-cooker recipe and it was OK. I thought that the slow cooker made the sauerkraut taste a little funky (Dino didn't think it did) kind of in the same way that I think onions taste weird in there sometimes. The pork was good and very tender. It definitely didn't look pretty, and I don't think I'd make it again because the flavor just wasn't good enough.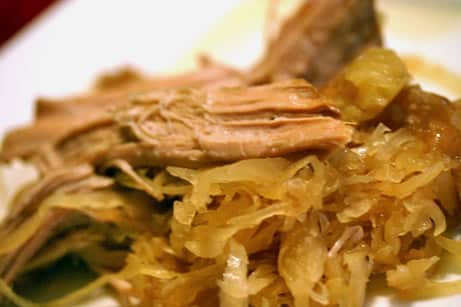 No-Fuss Sauerkraut
Fix-It and Forget-It Recipes for Entertaining – Vera M. Kuhns, Harrisonburg, VA
If your slow cooker isn't large enough to hold all the ingredients, cook one package of sauerkraut and half the apples, brown sugar, and apple juice in another cooker. Mix all the ingredients of both cookers together before serving.
3 lbs. pork roast
3 2 pound packages sauerkraut, (drain off juice from 1 package)
2 apples, peeled and sliced
½ cup brown sugar
1 cup apple juice
1. Place meat in large slow cooker.
2. Place sauerkraut on top of meat.
3. Add apples and brown sugar. Add juice.
4. Cover. Cook on high 4-5 hours.
5. Serve with mashed potatoes.
MacGourmet Rating: 3 Stars