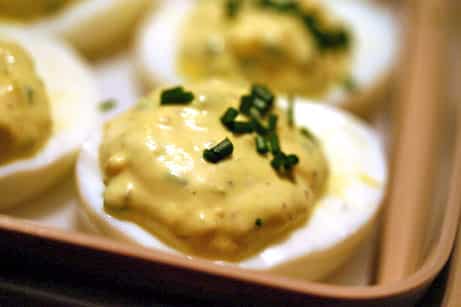 Cumin and Chive Stuffed Eggs
This post may contain affiliate links. Thank you for supporting the brands that keep me creative in my tiny kitchen!
These eggs were really tasty and different! I cut the recipe in half, and I think it was a little too runny. Next time, I'd add a little less mayo and yogurt so that it'd be thicker like the deviled eggs that I usually make. This would be great for an appetizer for a dinner party!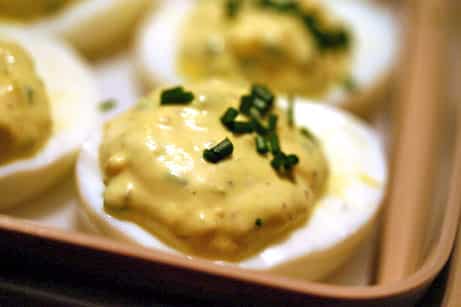 Cumin and Chive Stuffed Eggs
Gourmet April 2001
Active time: 25 min Start to finish: 40 min
Makes 4 (hors d'oeuvre) servings.
6 large eggs
1 teaspoon cumin seeds, toasted and cooled
3 tablespoons mayonnaise
3 tablespoons plain yogurt
3 tablespoons thinly sliced fresh chives
Fresh lemon juice to taste
Cover eggs with cold water by 1 inch in a saucepan and bring just to a boil. Remove from heat and let eggs stand, covered with lid, 17 minutes.
Finely grind cumin seeds in an electric coffee/spice grinder or with a mortar and pestle.
Drain eggs, then rinse with cold water until no longer hot to the touch.
Peel eggs, then halve lengthwise. Carefully remove yolks and mash in a bowl with a fork. Stir in mayonnaise, yogurt, 2 tablespoons chives, lemon juice, cumin, and salt and pepper to taste (filling will be loose).
Spoon yolk into whites and sprinkle with remaining tablespoon chives.
MacGourmet Rating: 4 Stars