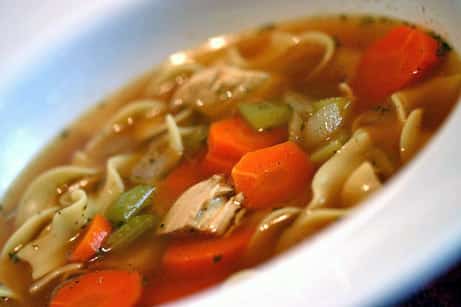 Quick and Easy Chicken Noodle Soup
This post may contain affiliate links. Thank you for supporting the brands that keep me creative in my tiny kitchen!
I bought ingredients to make a quick chicken noodle soup because I thought I was getting sick, and of course it ended up being really hot outside when I went to make it. It was good, and definitely easy – but I don't usually have cooked chicken breast on hand, so I had to cook it first, then make the soup. It tasted good, but it's hard to get into soup on a hot day.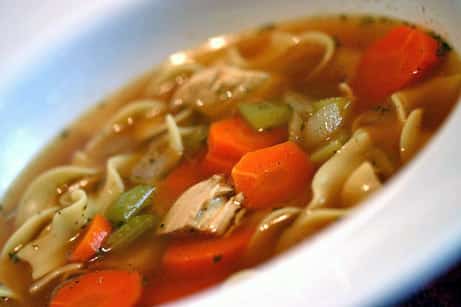 Quick and Easy Chicken Noodle Soup
allrecipes.com – MARYVM
Prep Time: 10 Minutes
Cook Time: 20 Minutes Ready In: 30 Minutes
Yields: 6 servings
"Chicken, noodles and carrots are simmered in canned chicken and vegetable broth seasoned with basil and oregano in this quick soup."
1 tablespoon butter
½ cup chopped onion
½ cup chopped celery
4 (14.5 ounce) cans chicken broth
1 (14.5 ounce) can vegetable broth
½ lb. chopped cooked chicken breast
1 ½ cups egg noodles
1 cup sliced carrots
½ teaspoon dried basil
½ teaspoon dried oregano
salt and pepper to taste
1. In a large pot over medium heat, melt butter. Cook onion and celery in butter until just tender, 5 minutes. Pour in chicken and vegetable broths and stir in chicken, noodles, carrots, basil, oregano, salt and pepper. Bring to a boil, then reduce heat and simmer 20 minutes before serving.
MacGourmet Rating: 3 Stars