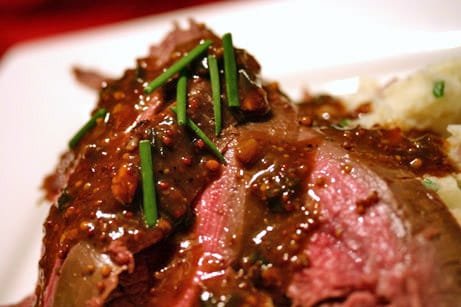 Bourbon and Brown Sugar Flank Steak with Garlic-Chive Mashed Potatoes
This post may contain affiliate links. Thank you for supporting the brands that keep me creative in my tiny kitchen!
This flank steak recipe is outstanding! I broiled it, and it came out juicy and delicious. The flavor is great! I used a whole grain dijon, and it added a nice texture to the sauce. I have a ton of fresh chives in my garden, and try to find ways to use them up. I'll definitely make this one again!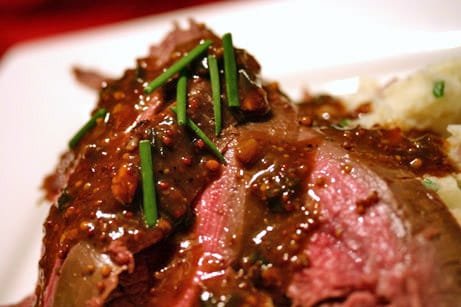 Bourbon and Brown Sugar Flank Steak with Garlic-Chive Mashed Potatoes
Cooking Light September 2002
Pork tenderloin will also work in this recipe.
Steak:
¼ cup packed dark brown sugar
¼ cup minced green onions
¼ cup bourbon
¼ cup low-sodium soy sauce
¼ cup Dijon mustard
½ teaspoon freshly ground black pepper
¼ teaspoon Worcestershire sauce
1 (2-pound) flank steak, trimmed
Cooking spray
½ teaspoon cornstarch
Potatoes:
3 lbs. small red potatoes
6 garlic cloves, peeled
½ cup reduced-fat sour cream
⅓ cup 2% reduced-fat milk
2 ½ tablespoons butter
1 teaspoon salt
¼ teaspoon freshly ground black pepper
¼ cup chopped fresh chives
Garnish:
8 fresh chives, cut into 1-inch pieces
To prepare steak, combine first 7 ingredients in a large zip-top plastic bag; add steak. Seal and marinate in refrigerator 8 hours or overnight, turning bag occasionally. Remove steak from bag, reserving marinade.
Prepare grill.
Place steak on grill rack coated with cooking spray; grill 5 minutes on each side or until desired degree of doneness. Let stand 10 minutes. Cut diagonally across grain into thin slices.
Combine reserved marinade and cornstarch in a saucepan. Bring to a boil; cook 1 minute, stirring constantly.
To prepare potatoes, place potatoes and garlic in a large Dutch oven; cover with water. Bring to a boil. Reduce heat; simmer 30 minutes or until tender. Drain.
Return potatoes and garlic to pan, and place over medium heat. Add sour cream, milk, butter, salt, and 1/4 teaspoon pepper. Mash potato mixture to desired consistency with a potato masher. Stir in chopped chives. Mound 3/4 cup potatoes on each of 8 plates; arrange 3 ounces steak around each serving of potatoes. Drizzle 1 tablespoon sauce on each plate; sprinkle with chive pieces, if desired.
Yield: 8 servings
Nutritional notes:
CALORIES 456 (30% from fat); FAT 15.4g (sat 7.4g,mono 4.9g,poly 0.8g); PROTEIN 29.1g; CHOLESTEROL 77mg; CALCIUM 84mg; SODIUM 887mg; FIBER 3.7g; IRON 4.8mg; CARBOHYDRATE 45.9g
MacGourmet Rating: 5 Stars