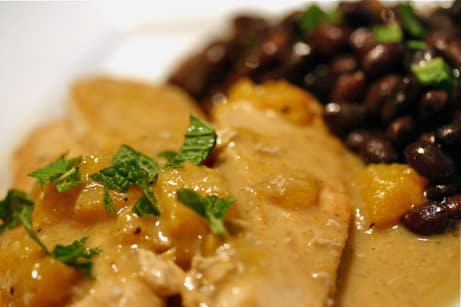 Coconut Mango Chicken with Black Beans
This post may contain affiliate links. Thank you for supporting the brands that keep me creative in my tiny kitchen!
This meal was really great! I added a favorite side dish of ours to a recipe from the newest issue of Every Day with Rachael Ray. Yum!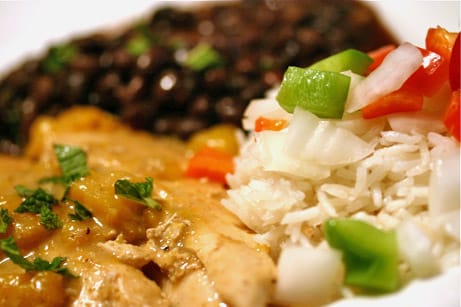 This dish was really good. I wasn't sure how much I'd like mint in the beans, but it worked surprisingly well.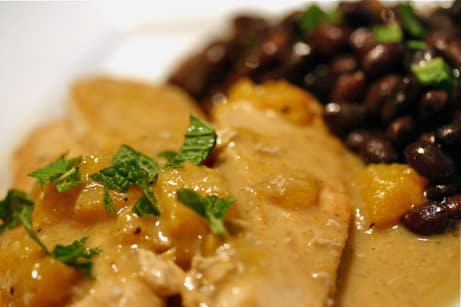 Coconut Mango Chicken with Black Beans
Every Day with Rachael Ray June/July 2008
SERVES 4
Prep Time: 15 min
Cook Time: 15 min
1 tablespoon vegetable oil
1 lb. boneless chicken breast, cut into strips
2 teaspoons ground coriander
½ cup chicken broth
1 cup coconut milk
1 mango, peeled and cut into 1/2 inch pieces
Salt and pepper
Two 15-ounce cans black beans, rinsed
2 tablespoons fresh lime juice
¼ cup chopped mint
1. In a large skillet, heat the oil over high heat. Add the chicken and cook, turning once, until browned, about 3 minutes. Add the coriander, and stir for about 30 seconds. Add the chicken broth, lower the heat and simmer for 3 minutes, scraping up any browned bits; transfer to a plate. Add the coconut milk to the skillet, increase the heat and boil to reduce by half, about 4 minutes. Stir in the mango and cook until warmed through. Return the chicken to the skillet, toss and remove from the heat; season with salt and pepper.
2. Meanwhile, in a medium saucepan, simmer the black beans over low heat. Stir in the lime juice and 3 tablespoons mint.
3. Divide the beans among 4 plates. Top with the chicken and remaining mint.
MacGourmet Rating: 4 Stars
---
On the side, I made a dish that my father-in-law and I learned from some Brazilian friends. You chop up some bell peppers and an onion, throw them into a big bowl with about a tablespoon of white vinegar and 2 tablespoons of water. Let it hang out in the fridge for a while and serve it over rice. It's really nice and crunchy, and the longer you let the vinegar work, the more juice the peppers create. It's really simple and satisfying. It's awesome the next day too…but be warned that eating this much raw onion & pepper will definitely take a toll on your breath! It's totally worth it.