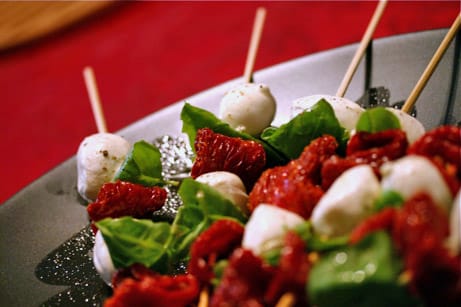 This post may contain affiliate links. Thank you for supporting the brands that keep me creative in my tiny kitchen!
I came across this recipe and thought that it would be a great appetizer. It was! It's really simple but the sun-dried tomatoes really make it special. I didn't get the oil packed kind, so I just drizzled some extra-virgin olive oil on them afterward. My basil plants have been getting a lot of use so far this year!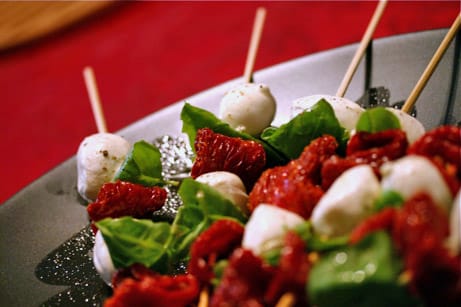 Sundried Tomato Kebabs
Giada De Laurentiis
Difficulty: Easy
Prep Time: 15 minutes
Yield: 12 skewers, 6 servings
24 oil-packed sundried tomato halves, drained, oil reserved
24 medium basil leaves
24 small fresh mozzarella balls packed in water, drained
Salt and freshly ground black pepper
Special Equipment: 12 (8-inch) wooden skewers
Alternate 1 sun-dried tomato half, 1 basil leaf, 1 mozzarella ball, 1 more basil leaf, 1 more sun-dried tomato half and 1 more mozzarella ball on each skewer. Arrange the skewers on a platter. Drizzle the reserved oil from the sun-dried tomatoes over the skewers. Sprinkle with salt and pepper, and serve.
MacGourmet Rating: 5 Stars