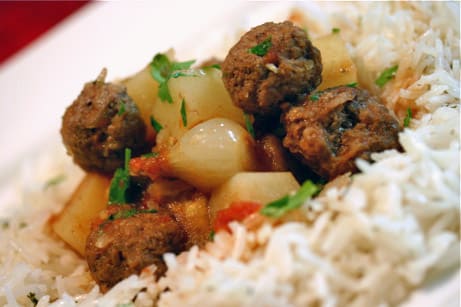 Sour Kebab (Eksili Kebap)
This post may contain affiliate links. Thank you for supporting the brands that keep me creative in my tiny kitchen!
I made another winner from Binnur! I wanted to try this one out because I'm trying to get eggplant into more dishes to prove to Dino that it's not terrible. This dish turned out WONDERFULLY! It was even better the next day! The kofte are delicious, and I could see making these tiny gems and putting them in lots of other sauces. This is DEFINITELY worth trying out!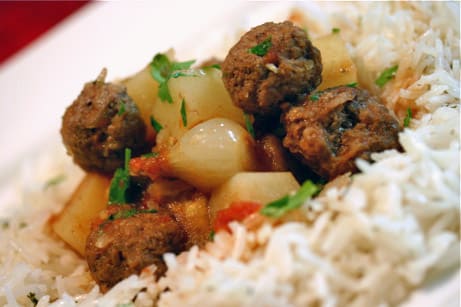 Sour Kebab (Eksili Kebap)
Binnur's Turkish Cookbook
Kofte:
500 gr lean ground beef
1 onion, grated
Salt
Pepper
3 tablespoons butter
13-14 pearl onions, peeled
1 medium eggplant, peel alternating strips of skin lengthwise, cut in medium sized chunks, soak in salty water for 15 minutes, squeeze
2 medium white potatoes, peeled, cut in medium sizes
1 tablespoon tomato paste
½ cup crushed tomato, in a can
1 or 1 1/2 cup warm water
3 tablespoons pomegranate paste or Grenadine syrup
Salt
Pepper
Knead all the Kofte ingredients. Create balls a bit larger than hazelnuts. Place them on the oven tray. Grill for about 4-5 minutes, stirring a few times. Do not burn!
Meanwhile saute the onion with butter for 2-3 minutes over medium heat. Add the eggplant and potatoes, then cook for about 8-10 minutes. Shake the pot to stir, don't mash with a spoon. Add the rest of the ingredients into the pot. Close the lid, cook until the potatoes are tender over medium-low heat. Make sure not to use a spoon to stir while cooking. Sprinkle chopped parsley all over before serving.
2-3 servings.
* You may add a few unripe grapes or sour cherries while it's cooking:)
Meal Ideas:
– Turkish Ramadan Pide, Hummus, Stuffed Peppers with Olive Oil and Almond Pudding.
MacGourmet Rating: 5 Stars