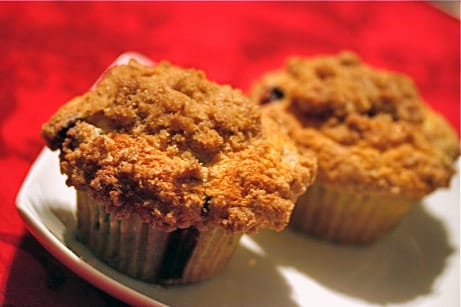 To-Die-For Blueberry Muffins
This post may contain affiliate links. Thank you for supporting the brands that keep me creative in my tiny kitchen!
These muffins got over 2000 5 star ratings on allrecipes…and I know why! They're fantastic! They have great flavor, and are super moist. The only thing I'd change next time is to make 12 normal sized muffins out of the batter. They got too messy to remove from my pan, and I had enough crumb topping to go on 12. The topping gets soggy after a day or two, so keep that in mind, too.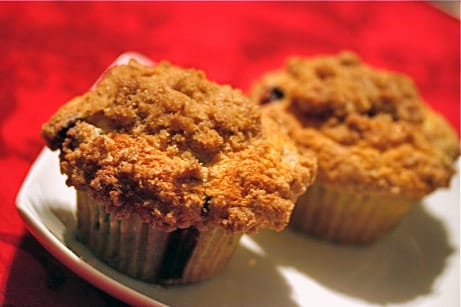 To-Die-For Blueberry Muffins
allrecipes.com – Colleen
Cook Time: 25 Minutes
Ready In: 40 Minutes
Yields: 8 servings
"Big blueberry flavor warrants big muffins, so fill the cups right up for oversized muffins that will please everyone. The cinnamon-sugar streusel is the crowning glory."
1 ½ cups all-purpose flour
¾ cup white sugar
½ teaspoon salt
2 teaspoons baking powder
⅓ cup vegetable oil
1 egg
⅓ cup milk
1 cup fresh blueberries
½ cup white sugar
⅓ cup all-purpose flour
¼ cup butter, cubed
1 ½ teaspoons ground cinnamon
1. Preheat oven to 400 degrees F (200 degrees C). Grease muffin cups or line with muffin liners.
2. Combine 1 1/2 cups flour, 3/4 cup sugar, salt and baking powder. Place vegetable oil into a 1 cup measuring cup; add the egg and enough milk to fill the cup. Mix this with flour mixture. Fold in blueberries. Fill muffin cups right to the top, and sprinkle with crumb topping mixture.
3. To Make Crumb Topping: Mix together 1/2 cup sugar, 1/3 cup flour, 1/4 cup butter, and 1 1/2 teaspoons cinnamon. Mix with fork, and sprinkle over muffins before baking.
4. Bake for 20 to 25 minutes in the preheated oven, or until done.
MacGourmet Rating: 5 Stars