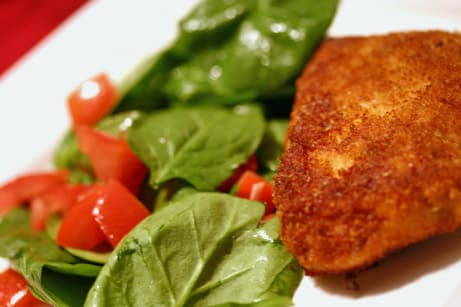 Crunchy Pork Chops with Garlicky Spinach and Tomato Salad | Sky Blue Potatoes
This post may contain affiliate links. Thank you for supporting the brands that keep me creative in my tiny kitchen!
This pork chop recipe was pretty good, and the salad that went with it was nice. It made too much salad for us though, so I definitely think you could make 4 pork chops with it.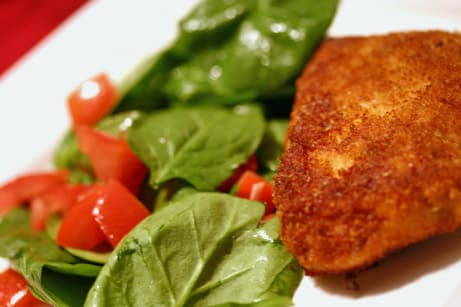 Crunchy Pork Chops with Garlicky Spinach and Tomato Salad
Nigella Lawson
Prep Time: 20 minutes
Cook Time: 15 minutes
Yield: 2 servings
Pork chops:
2 pork chops, approximately 8 ounces each
1 egg
½ teaspoon Dijon mustard
¼ teaspoon dried oregano
Salt and freshly ground black pepper
1 cup bread crumbs
1 tablespoon freshly grated Parmesan
1 cup ground nut oil or similar, for frying
Garlicky spinach and tomato salad:
3 medium tomatoes
½ clove garlic, minced
1 tablespoon olive oil
1 tablespoon lemon juice
4 cups baby spinach leaves
Salt and pepper
Trim the thick white fat off the pork chops, cutting carefully around the outside edge. Lay the chops between 2 pieces of plastic wrap and, using a mallet or a rolling pin beat them until the meaty part of the chop is half as thick. You will need to beat around the bone, so turn them over once as you go.
Beat the egg in a shallow wide bowl with the mustard, oregano, and salt and pepper. On a large plate or platter, combine the breadcrumbs with the Parmesan.
Press each of the chops into the egg mixture, coating either side. Then dip the eggy chops into the bread crumbs, covering them evenly. Let them lie on a cooling rack to dry slightly while you heat the oil in a large frying pan. When a small cube of bread sizzles if dropped into the oil, then the oil is hot enough. Cook the chops until they are a deep golden color, about 5 to 7 minutes a side (depending on how thin you've managed to get them and how cold they were before going in the oil).
Meanwhile, quarter the tomatoes and take out the seeds, then cut the shells into strips and dice them. You can take off the skins, too, if you prefer, by steeping the tomatoes first into a bowl of just boiled water for 3 to 5 minutes. Combine the diced tomato, minced or grated garlic, oil, and lemon juice in a bowl, and season well with salt and pepper.
When the chops are ready, toss the spinach in the tomato mixture until well coated and divide the salad between 2 large plates, putting each chop alongside.
MacGourmet Rating: 4 Stars
---
This recipe was kind of a pain to make. The potatoes are so tiny to scoop out, and the flavor of the blue cheese was overpowering. I can see doing this with less cheese in larger potatoes, but unless you have a lot of time to kill, I wouldn't bother. I think it was also a bad idea to make this on a Monday night…so maybe I'm being a little harsh.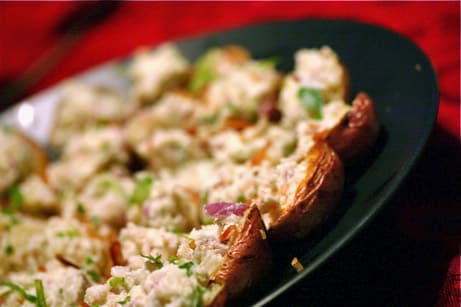 Sky Blue Potatoes
Every Day with Rachael Ray June/July 2008
SERVES 12
Prep Time: 20 min
Cook Time: 25 min
24 new red potatoes, halved lengthwise
2 teaspoons extra-virgin olive oil
1 ½ cups sour cream
1 cup crumbled blue cheese
½ cup crumbled cooked bacon, plus more for garnish
⅓ cup chopped flat-leaf parsley, plus more for garnish
¼ red onion, finely chopped
1. Preheat the oven to 400°. In a medium bowl, toss the potatoes with the olive oil. Place cut side down on a baking sheet and bake until the skins are crisp, 20 to 25 minutes; let cool.
2. Scoop out the center of each potato half and place in a medium bowl. Stir in the sour cream, blue cheese, bacon, parsley and onion. Fill each potato skin with the sour cream mixture and top with more crumbled bacon and parsley.
MacGourmet Rating: 3 Stars