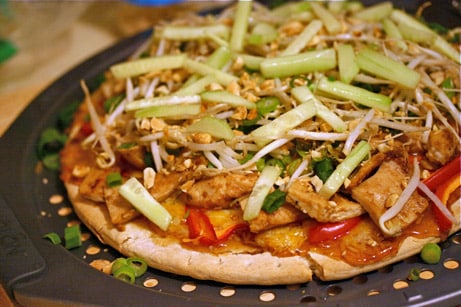 This post may contain affiliate links. Thank you for supporting the brands that keep me creative in my tiny kitchen!
This is the second time I've made this recipe. The changes I made this time were to use a pizza crust that was already made (last time, the dough stayed raw in the middle of the pizza) and I couldn't find a small jar of duck sauce, so I used plum. I didn't end up liking how the plum sauce tasted, but otherwise it was still great. I'll definitely make it again, but never with plum sauce. This recipe has a LOT of ingredients, but it's very tasty.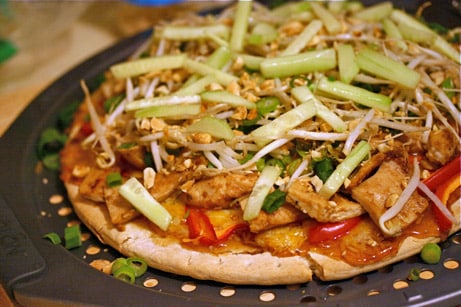 Thai Chicken Pizza
Rachael Ray
Prep Time: 10 minutes
Cook Time: 20 minutes
Yield: 4 servings
1 pizza dough, any brand
½ cup duck sauce or plum sauce
½ teaspoon crushed red pepper flakes
1 package (2 cups) shredded provolone or Monterey Jack cheese
½ red bell pepper, thinly sliced
1 tablespoon vegetable oil
2 tablespoons soy sauce
1 rounded tablespoonful peanut butter
2 teaspoons hot sauce
2 teaspoons grill seasoning (recommended: Montreal Steak Seasoning) eyeball it
4 chicken breast cutlets, 1/2 pound
2 tablespoons honey
2 tablespoons rice wine vinegar or cider vinegar
¼ seedless cucumber, peeled and cut into matchsticks
4 scallions, chopped
1 cup bean spouts, a couple of handfuls
Palm full cilantro leaves, chopped
¼ cup chopped peanuts, 2 ounces
Preheat oven to 425 degrees F.
Form pizza crust on pizza pan or cookie sheet. Top with duck or plum sauce – spread it around like you would pizza sauce. Sprinkle the pizza with some crushed red pepper flakes then top with cheese and peppers. Bake until golden and bubbly, 15 to 17 minutes.
Preheat a grill pan over medium-high heat. Combine vegetable oil, soy sauce and peanut butter with hot sauce and grill seasoning. Use the microwave to loosen up peanut butter if it is too cold to blend into sauce, 10 seconds ought to do it. Add chicken and coat evenly with mixture. Let stand 10 minutes then grill chicken cutlets 2 to 3 minutes on each side, until firm. Slice chicken into very thin strips.
While chicken cooks, mix honey and vinegar and add the cucumber. Turn to coat evenly.
Top the hot, cooked pizza with chicken, scallions, sprouts and cilantro. Drain cucumbers and scatter over the pizza. Garnish pizza with peanuts, cut into 8 wedges and serve.
MacGourmet Rating: 5 Stars