Juicy Pork Chops | Chickpea (Garbanzo Bean) and Tomato Salad Recipe | Black Bean Brownies
This post may contain affiliate links. Thank you for supporting the brands that keep me creative in my tiny kitchen!
This pork chop recipe definitely gets points for being insanely easy, but it's nothing special at all.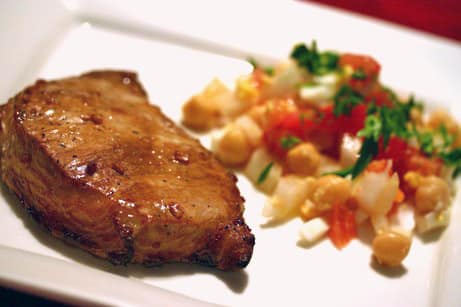 Juicy Pork Chops
allrecipes.com – MOMTOTHREEBOYZ
Cook Time: 10 Minutes Ready In: 12 Hours 15 Minutes
Yields: 4 servings
"This is he most moist pork chops you will ever have! Even my three boys ages 7 and under eat them all up. It is so easy and actually so healthy. Great served with some rice, noodles or any vegetables."
½ cup soy sauce
2 tablespoons jarred minced garlic
1 teaspoon ground black pepper
1 lb. (1 inch thick) boneless pork chops
1. In a large resealable bag, mix together the soy sauce, minced garlic, and pepper. Place the pork chops into the bag, squeeze out most of the air, seal, and marinate for 12 hours in the refrigerator. Turn the bag over about halfway through.
2. Preheat the oven's broiler. Place the pork chops onto a broiling pan. Broil for 5 minutes per side, or to your desired doneness. Time will be different depending on the thickness of your chops.
MacGourmet Rating: 3 Stars
---
This salad was really tasty! I liked having the hard boiled egg in with the other ingredients. The dressing is simple and it works great because it doesn't overpower the salad.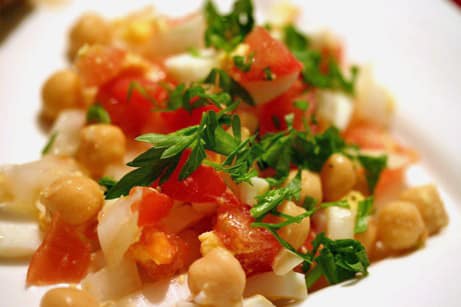 Chickpea (Garbanzo Bean) and Tomato Salad Recipe
SimplyRecipes.com
2 15-ounce cans of garbanzo beans (chickpeas), drained and rinsed
4 tomatoes (about 2 lbs.), cored and chopped
4 large hard-boiled eggs, peeled and chopped
2 cups of chopped sweet onion (Vidalia, Walla walla, or another variety)
⅔ cup extra-virgin olive oil
6 tablespoons of white wine vinegar or sherry vinegar
1 teaspoon salt
Freshly ground pepper
Chopped parsley for garnish
1 Combine the garbanzo beans, tomatoes, eggs, and onion in a large bowl.
2 Separately mix the dressing ingredients in a jar or a small bowl – olive oil, vinegar, salt, and pepper. Pour over salad ingredients. Sprinkle on chopped parsley. Serve immediately.
You can chill the undressed salad up to six hours, until ready to serve.
Serves 6-8.
MacGourmet Rating: 4 Stars
---
I also made a brownie variation that I've seen for a while, and finally was curious enough to try. It turned out pretty good, but it's not my favorite. Dino and his coworkers loved them, I just thought they were OK. My apologies for the blurry photo.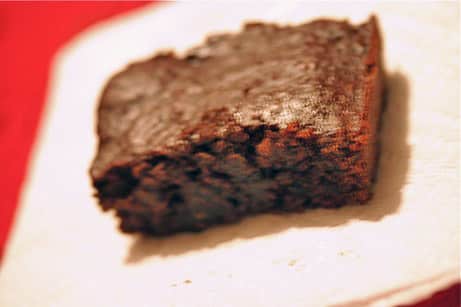 Black Bean Brownies
CLBB stefania4
On the resounding "YUM!" of some friends, I took a crack at black bean brownies. The CL gods may strike me dead, but it's one can of black beans (and their liquid) pureed + one box of brownie mix (Ghirardelli, in my case). Nothing else – no egg, no water, no oil. They're terrific. And I don't feel crazy-guilty for having two.
MacGourmet Rating: 3 Stars