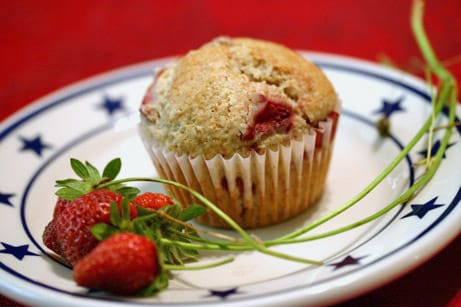 This post may contain affiliate links. Thank you for supporting the brands that keep me creative in my tiny kitchen!
Some friends gave us a bunch of strawberries from their back yard (and even a plant to try to grow some of my own!). This morning, I was going to make pancakes with some of them, but I decided to go for some strawberry muffins instead. I didn't realize that I didn't have enough flour until about halfway in, so I ended up using 1 1/4 cups white flour and 1/2 cup whole wheat flour. They turned out really awesome! I'd use the whole wheat flour again, too! The strawberries melt into the muffins and it tastes like little pockets of strawberry jam inside. Yum!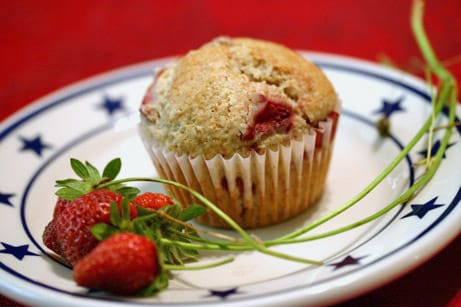 Strawberry Muffins
allrecipes.com – Katie Mae
Yields: 8 servings
"Strawberry muffins that can be made with fresh or frozen strawberries. If using frozen berries, thaw slightly, then chop with a knife."
¼ cup canola oil
½ cup milk
1 egg
½ teaspoon salt
2 teaspoons baking powder
½ cup white sugar
1 ¾ cups all-purpose flour
1 cup chopped strawberries
1. Preheat oven to 375 degrees F (190 degrees C) oil an 8 cup muffin tin, or use paper liners.
2. In a small bowl, combine oil, milk, and egg. Beat lightly. In a large bowl, mix flour, salt, baking powder and sugar. Toss in chopped strawberries and stir to coat with flour. Pour in milk mixture and stir together.
3. Fill muffin cups. Bake at 375 degrees F (190 degrees C) for 25 minutes, or until the tops bounce back from the touch. Cool 10 minutes and remove from pans.
MacGourmet Rating: 5 Stars