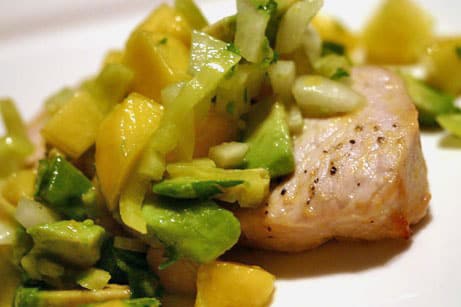 Grilled Pork Chops with Peachy Hot Salsa
This post may contain affiliate links. Thank you for supporting the brands that keep me creative in my tiny kitchen!
This dish was OK but nothing too special. I broiled them, so I know that grilling them would have given them more flavor…but I don't think that would have been enough to make me want to make them again.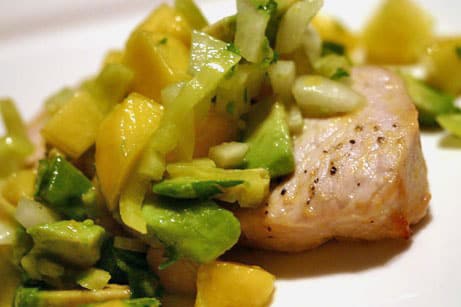 Grilled Pork Chops with Peachy Hot Salsa
Every Day with Rachael Ray June/July 2008
SERVES 4
Prep Time: 25 min (plus chilling)
Cook Time: 10 min
5 peaches, peeled and halved
2 tablespoons honey
2 tablespoons extra-virgin olive oil
1 tablespoon lemon juice
4 center-cut pork chops (about 3/4 inch thick)
1 avocado, finely chopped
⅓ cup finely chopped sweet onion
1 serrano chile, thinly sliced crosswise
2 tablespoons chopped flat-leaf parsley
Salt
¼ teaspoon sugar
Pepper
1. Using a food processor, puree 4 peach halves, the honey, olive oil and lemon juice. Transfer to a 9-inch square glass baking dish and add the pork chops, turning to coat. Cover with plastic wrap and refrigerate for 30 minutes.
2. Preheat a grill to medium-high. Finely chop the remaining 6 peach halves and place in a medium bowl. Stir in the avocado, onion, chile, parsley, 3/4 teaspoon salt and the sugar.
3. Remove the pork chops from the marinade and season both sides with salt and pepper. Grill, covered, turning once, over indirect heat until just firm to the touch, about 10 minutes. Let rest for 5 minutes before serving with the salsa.
MacGourmet Rating: 3 Stars
---
On the side, I made a salad with baby spinach, broccoli florets, and some Catalina dressing.